101
Kiko Hervás and Erika Villaécija proclaimed winners of the Tuna Race Balfegó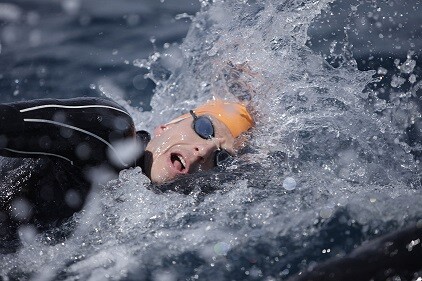 The Olympian Kiko Hervás won again in the 5.000 meters of the II Edition of the Tuna Race Balfegó, competition in open waters, which was held yesterday in l'Ametlla de Mar (Tarragona), with a time of 54 minutes y 26 seconds.
In the women's category, the World Cup Erika Villaécija (55'31) was the winner in a very disputed first place with the Olympic Yurema Requena (55'35), who reached the finish line just a few seconds later.
Yonathan Castet (54'31) and the Olympic Damián Blaum (55'50'') obtained the second and third place after being proclaimed Kiko Hervás the winner of the test that had a participation of 220 swimmers.
The renowned triathletes Saleta Castro and Xavier Llobet they also participated in the 5000 meters test, reaching a time of 1: 09: 51 in the category Sub35 and 58: 04''in the category 36-44, respectively.
The catamaran Tuna Tour of Balfegó, was in charge of moving the 220 swimmers to the pools where the tunas of the Balfegó Group, which is why it is called the test, the starting point of a journey with a goal in the Platja de l'Alguer, full of public, volunteers of l'Ametlla and collaborators of the test, who did not stop encouraging the swimmers, in a very festive atmosphere and an unbeatable day.
At the 9 in the morning, a test of 2.500 meters with an exit at Cala Pixavaques took place for the first time. The young triathlete was the winner Pol Samsó the CN Mataró, with an impressive time of 28 minutes and 39 seconds, followed by Toni Manzaneque with a time of 30'22 ¨and the swimmer Laura Roldan, with a time of 30'22¨.
Driven by the Balfegó Group and organized by CIMA Dynamic Tuna Race Balfegó, This past weekend, 3 took place at 5 in May, within the framework of Red Tuna Gastronomic Week, It takes place for the second consecutive year in the Ametlla de Mar. Presentations, clinics, children's careers and, as a novelty, this year, a running test of 5km, a briefing of the test and visits to the tuna pools, have been Some of the activities planned this weekend.