106
Club TriMadrid (Madrid, Tres Cantos)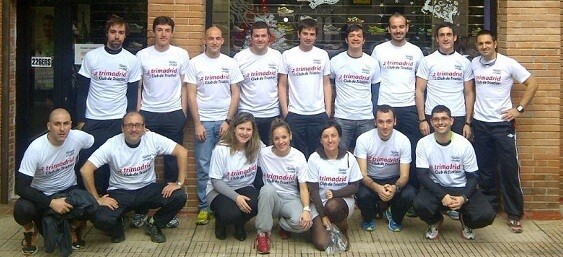 We inaugurate our club section ofTriathlon modules with the Club TriMadrid, located in the town of Tres Cantos, Madrid.
| | |
| --- | --- |
| Club name: | Triathlon Club TriMadrid |
| Foundation Year: | 2011 |
| City: | Tres Cantos |
| Province | Madrid |
| No. of partners: | 65 |
| Website | |
| Child section: | SI |
| Annual quota: | 25 € |
| Monthly Fee: | 0 € |
| Sponsors | VICTORY ENDURANCE, ENTRENAONLINE |
| Associates | IRONSPORT, ARTURO SPORT TRES CANTOS, MENINA BIKE, 21 ISLANDS, ALGFISIO, OHP SPORT MEDICAL CENTER |
The club
TriMadrid It is a triathlon club that was created to be a meeting point for [Email protected] people who like the Triathlon and want to meet people to train, travel to competitions ... etc but for their work or place where they live they do not have the possibility to have daily contact with the team.
The Club also has a superior triathlon coach, with subsidized training for club members, which offers the possibility of having a guided planning based on objectives, using the tools offered by the computer so that everyone who sets a goal I can get it.
TriMadrid was born with the Club 2.0 concept
TriMadrid bases all its activity through the internet, using the forum and social networks, to make meetups, training groups, search for competitions ... In only 1 year has 65 partners who enjoy this sport together in end events. week as well as competitions and where a great atmosphere of companionship is breathed.