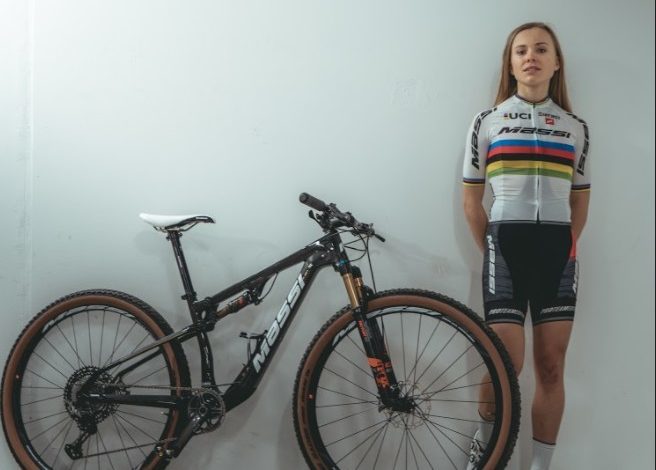 Inverse joins the Massi UCI Team to develop professional cycling team sportswear of Mountain.
The fusion of the knowledge of the latest technologies with the experience in competition has resulted in an agreement that unites two companies with a long history and history in the world of cycling, Massi since 1934 and Inverse since 1969.
The new collaborator will equip the Massi UCI Team after being world champion in 2020 in a dream year that has placed him at the highest positions in the UCI ranking.
The young French runner Loana lecomte, winner of the Elite World Cup in Nové Mêsto, current world, European and French champion in its category, has taken the brand's name to the highest rungs of the international Cross Country scene.
This collaboration agreement with Inverse has been accompanied by two important signings of runners with a lot of projection in order to strengthen the block: Joshua Dubau, champion of France and Europe in 2018, and Olivia Onesti, current UCI world ranking leader in its category.
Reinforcements have joined the laureate Loana lecomte, in Thomas Griot, 8th in the Nové Mêsto World Cup, already the Olympic champion and former world champion Julie Bresset.
The set will also have four national runners: Sara Gay, Madga Duran, Cristofer Bosque e Israel Nunez.
Runners will have at their disposal the Massi Aire SL bikes double suspension and Massi Pro SL semi-rigid, engineered for high competition.
In terms of equipment, Inverse has been working on developing innovative custom-made Pro AIR jerseys and shorts for the team, with anatomical FIT pattern, ultralight weight and sublimated with eco-friendly inks.
Price drop on Amazon
180,00 €
5 New From 180,00 €

Amazon.com
374,00 €
13 New From 365,00 €

Amazon.com
More discounts