Camaleón Triathlon (Sevilla, Sevilla)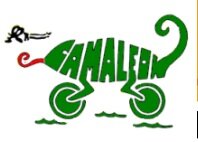 | | |
| --- | --- |
| Club name: | CLAIRE TRIATHLON CLUB |
| Foundation Year: | 1998 |
| City: | SEVILLA |
| Province | SEVILLA |
| No. of partners: | 123 |
| Website | |
| Child section: | DO NOT |
| Annual quota: | 50 |
| Monthly Fee: | DO NOT |
| Sponsors | CASTELAO LOUNGUE BAR - TRAINING MARKET |
| Partners | |
The club
The club was born in 1998 because the dinosaur partners (the oldest of the place) met in a bar near the headquarters that was called CAMALEÓN, although now it no longer exists was the reason for our name. We started some 20 companions, all known, and we were the pioneers of the triathlon in Seville, in the capital and in the nearby towns, when nobody knew this sport around here and they saw us with the first specific sportswear people hallucinated us our pints.
From 2003 to 2005 we had a participatory slump but just in that year the board of directors was renewed and we returned to the path of training and competitions.
It was at 2006 when a Chameleon made its first Ironman.
As a sign of our growth, at 2012 we went 35 to the ICAN half Ironman of Marbella and at 2013 we went some 25 to the Half Ironman TRISUR of Sevilla and 14 to the Ironman IBERMAN of Huelva.
We have 123 partners with ages from the 22 to the 53 and all eager to enjoy doing what they like most, the Triathlon.
Although we also compete in crossings in the open sea and in racing and mountain bike touring circuits, and we do popular races such as ultra-long-distance races, such as the 101 and even 2 or 3 years ago a few of our colleagues were given by the raids and they also hooked a few of us.
In short, we do what we want because we do not have competition regulations at the club level but whenever we can train together and enjoy the post-races, which is the moment that we like the most because as I always say, we are "fat recycled "because we all like to eat a lot and it saves us the amount of exercise we do.
Little by little we have been growing and putting into practice our maxim "By supporting ourselves we will achieve our goals".