Triconsejos by Tamara Gómez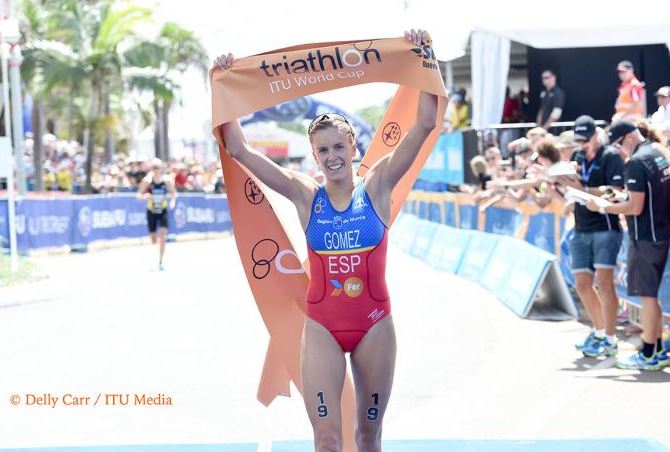 Tamara is one of our best international triathletes
Name: Tamara Gómez Garrido
Home: Elche when I'm resting. In season we are moving depending on where the races are.
Club: Ferrol Triathlon
Coach: Carlos Prieto
Sponsors: New Balance, FER Project, Podium Scholarships
Best 2015 competition: 1st Mooloolaba World Cup.
Tell us some curious anecdote that happened to you this year:
No particular anecdote comes to mind, but when you travel a lot, things always happen. For example, we take many planes throughout the year and we always go to the allowed baggage weight limit... (not to mention that we almost always go overboard). More than once I have had to travel with several shirts on, coats, things in hand... or "juggle" to avoid paying overweight.
A friend in triathlon:
I have many friends, especially with whom I usually travel (meninas, velvet boys, pablet, tarsan ... they are nicknames that we wear). Sharing competitions and experiences joins a lot. They are also very important for me my Physio and doctor (because they are more than that): José Antonio Bodoque and Zigor Montalvo, and Benito de Torres, who has taught me a lot.
Preferred Rival: (Who do you like to compete with most):
Kirsten Sweetland (CAN) and Sara Vilic (AUT). I have been fortunate to share weeks with them, with Kirsten in Australia and with Sara in South Africa when I was training there last year, and we get along very well. And without a doubt, with Miriam CasillasWe are rivals but also friends, we go to almost all races together.
Objectives for the 2016 season:
qualify for the Rio Games.
Tips to improve swimming:
Do not obsess The technique is important but it takes time. You have to have a good time swimming. It helps a lot that they record you and then see you, because sometimes it's different how you're swimming to how you think you're swimming.
Tips to improve cycling:
The mountain bike in preseason can help to take strength and technique, but beware of falls, I say from experience (hehe).
Tips to improve the race on foot:
Long shootings in preseason by varied terrain and that is hard (slopes, descents, soft earth ...) that gives enough strength and especially you have a good time.
Triathlon that you have not been able to run yet and would like to participate sometime:
Escape from Alcatraz.
Twitter: @tam_gomezg
Facebook: Tamara Gómez