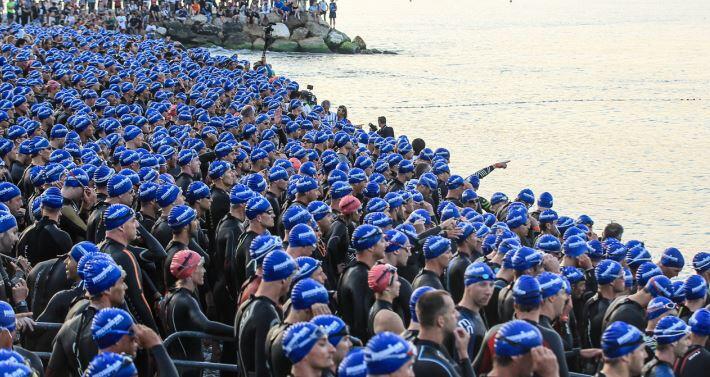 We leave you 5 tips to face with guarantees a swimming segment in open water, to avoid the overwhelm in the water, one of the main "fears" of triathlete
Each time there are more triathletes, both at initiation level and with several years of experience, who tell us situations of overwhelm and anxiety in the swimming segment.
In this article we will try to help you with various guidelines to keep those uncomfortable situations at bay.
So that the competition develops with as little uncertainty as possible regarding the situations and sensations that you may experience in the water segment, we propose you 5 basic guidelines:
1. Prepare for open waters.
One of the main causes of these unpleasant situations is arrive to the day of the competition without first having swum in open water.
That is why it is important that you try do several trainings in sea or swamps, where you can check the sensations of changing the pool by the open water: swimming with waves and currents, orienting yourself, not seeing the bottom or standing, etc.
2. Try swimming with neoprene before competing.
If you have never swum with neoprene you will feel a feeling of pressure in the chest, because it is a garment that must be tight to the body to prevent water from entering, that is very important that you experience the situation before and, if possible, in open water.
Try swimming in the pool with the neoprene to get used to its sensations
3. Concentrate on the blows.
Every time we find more triathletes, so the departures are with a large number of athletes at the same time. This makes it practically inevitable that you experience some shocks or even grabs during the first meters.
You may also be able to swallow some water, but it's nothing that will last more than 2 minutes, so keep calm and look for lateral spaces to avoid the crowd.
4. Find your focus of attention. Control the pulse and breathing acceleration
There are several circumstances that can cause situations that we accelerate the pulse and breathing in the water. Before that leads to overwhelm and anxiety, assumes that "is part of the game" and raise and work your resolution strategy.
It may consist, for example, of concentrating on the coordination of lateral and frontal breaths or in mhave a constant stroke rate, but the most important thing is maintain a rhythmic breathing without hyperventilating, releasing the air to release chest pressure every time you reach your head.
5. Ask for help.
If in spite of trying it in several occasions you continue experiencing these situations that prevent you from completing your objective, go to a professional sports psychologist or coach to help you relax andFrontar sensations that you experience before or during the test.
These guidelines can be very useful if you work constantly, do not leave everything for the week of your objective test or even for the same day, since that only generates a higher level of burden. Breathe and enjoy!
Laura García Cervantes
Dra. Science of Physical Activity and Sport
Technical Director Club Trikatlón Tres Cantos
Triathlon and Swimming Senior Trainer
Paratriathlon Specialist Trainer