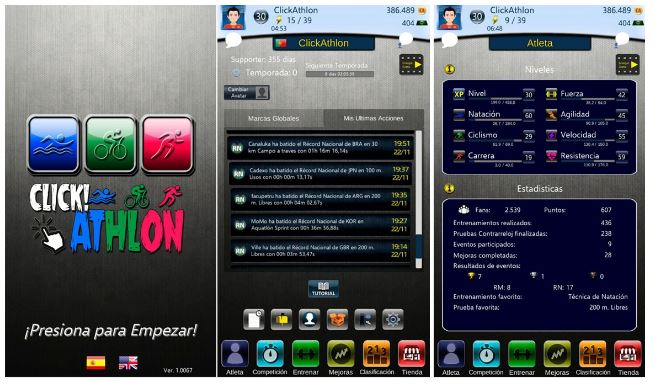 {wbamp-meta name = »image» url = »images / stories / news_08 / ClickAthlon-screen1.JPG» width = »300" height = »150"}
It is a game with an attractive look and with a simple mechanic that surely fascinates lovers of triathlon and Gaming in APP
As reported by Sportlife magazine, just one month ago a new application for Smartphome, based on the world of triathlon, ClickAthlon, developed by two young Spaniards and puts us in the shoes of a «virtual» triathlete to train and compete in a multitude of tests.
The App has modes of swimming, cycling and walking training, besides being able to train in the gym
In addition to duathlons, triathlons o aquatlones, the application allows us to compete in pool tests or open waters, going through cycling events on the track, road or mountain bike, to all kinds of athletics events.
We can perform tests against the clock or face friends and rivals from around the world in different events of all kinds.
All this from a game with an attractive appearance and simple a priori mechanics that nevertheless knows how to catch, it is motivating to see how your «triathlete» improves their times and their positions in the infinite ranking that the game contains.
The developers are currently working to incorporate new tests and training, as well as new features, the possibility of belonging to a club and competitions by clubs is currently their priority and we will see soon.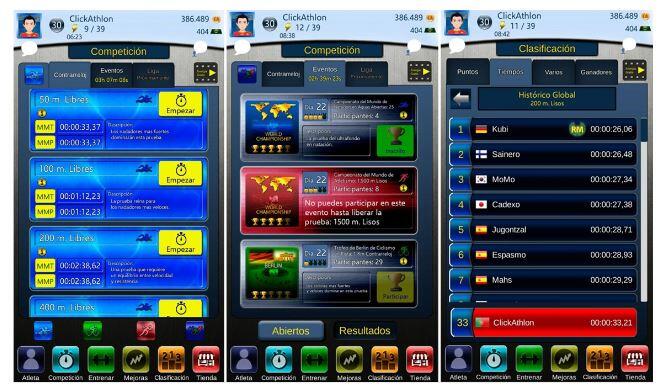 Where to Download ClickAthlon?
You may also be interested in this