How to channel the emotions that the competition produces?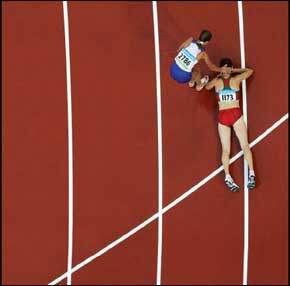 Our collaborator Xavi Méndez tells us in this article how to face the emotions that we all have when participating in a competition.
When you are looking for a challenge Do you think about having a good time? It is the most important point so that you can fulfill your goal to 100%. Enjoy it, love it, as something unique, because only you will know how much you are willing to do for it.
The challenges that we propose, can provoke pressures, tensions, with perceptible and imperceptible direct results (if we pay attention, sensitive to being discovered) in our body.


They tend to be important tests that we believe difficult to overcome, the reasons can be very varied. Because it is unexpected, because it is the first time, so we can get if we get it, etc ... That's why we usually call it a challenge, because it is something that requires changes in the things we have done so far.


The choice of our triathlon can be based on multiple variants. For this, it is good to meditate on the pros and cons. These are some questions that can help you in the election. What am I willing to change? How much time do I want to devote to training? How much money do I want to allocate to the challenge? How will it affect my family life? And social? You can even ask yourself a question thinking about the day of the competition What will I do in case of rain? What decision will I make if I have less fun than expected?


Once chosen the triathlon where you want to participate, you'll probably feel a very high level of motivation for the desire to experience it and will generate in you the necessary confidence to fulfill what you have planned inside yourself. From that trust will be born the commitment. Very powerful word with origin and end in you.
Commitment will be born from motivation. Very powerful word with origin and end in you.

The commitment will bring you step by step to other levels, it will make you grow and advance improving your training. Also keep in mind that Within the commitment there is room for flexibility. It gives us the necessary freedom when we need to make modifications of any kind.

In short, an important protagonist who will help us channel the emotions of the competition, it will be the commitment, result of the confidence acquired after answering sincerely to the questions that we use to choose the triathlon.
This is the first post of three, where I will talk about the channeling of emotions. I would like it to be dynamic and you can share and contribute your experiences, experiences, doubts and concerns, to be able to enjoy and grow together.


A greeting.
Xavi Méndez.
www.xmentrainer.es