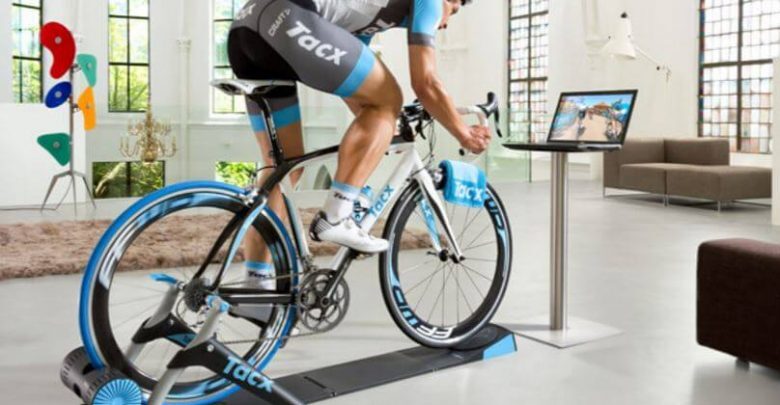 The rollers are tools used by the triathletes to do indoor workouts when the weather is bad or there is not much time to train
Surely you are already starting or you have started your duathlon season and you will not want to arrive in a bad moment of form to the first tests of the TRI season because of this changing time and the availability that we have of schedules to be able to train that almost They are never as good as we would like.
Known by all but keeping dust in most of the storage rooms or under the mattress of more than one bed is the one that could and should be our best ally in winter, THE ROLLER.
Team Sky also uses the rolls A DAILY (Although more than [Email protected] do not believe it!)
You have one but you have doubts about its use (more than doubts I would say lack of motivation), if it will be as effective as you would like, if it will give you the point that you get on the road, if you can cover those sessions that you do not have time to do with it and improve your performance ... Well, from the purest logic we are going to throw a cable, we are going to tell you its use and operation and, with it, we will try to help you to let that vaguería and get down to work in the best form of training in these dates, rainy days and even sessions where you do not have so much time for any commitment that has arisen that day.
What is the roller?
It is simply an accessory that we place on the rear wheel (fixed), on which we can mount the bike (curls), or that we can install without rear wheel as it brings its own pinion and we adapt it to our bike (also fixed).
Everything else that can bring us are accessories: measurements of cadence and speed, connection to PC and tablet to see stages and follow them, power measurements, oscillating to better simulate the road and resistance regulation with magnets.
Really the only thing that, in my view, I consider necessary is the regulation of resistance using a lever, roulette or similar in the handlebar since in intense series we can better play with the resistance immediately, of course, my advice is play with it when we "remain without development" that is, when even with the big plate and low pine nuts we can not reach the target area, why? Simply because it is more real.
How much would a roller session on the road mean?
I do not think anyone has any doubt that this is the most frequently asked question when someone buys a roller or even among the friends of the road grupeta every Sunday. Some will tell us that 1h knee is equivalent to 2h on the road, others will even tell us that more, there will be who will think the same but .... What is the reality?
The POTENTIOMETERS have helped us with this, since in the past several barbarities were said and everyone believed them but now we have a data when we turn over the potentiometer data to some applications that tells us HOW LONG THE SESSION WE HAVE BEEN PEDALING, and this obviously it is very variable but we could estimate that between the 75-95% of the session we spent pedaling. The rest simply do not give pedals on descents, we go to wheel, we go through curves, roundabouts, turns, we let ourselves go, etc.
With this data, resolute question, for those who always train alone, on roads without crossings, traffic, without too many slopes, etc, 1h roller will be 1h10-1h15 'on the road (maximum) but for those who leave as a group we could arrive to estimate that in 1h on roller do the same as in 1h20-25 'on the road.
"Therefore, if reading these previous paragraphs you are thinking that the next session that you are going to lose by climatology, you will do it on a roller and you will reduce the duration by 10-15% of the total, you are correct. Take a towel, a slight fan, put on your favorite music, hydrate well and give gasss to the pedals, which is the only thing you need to accomplish !! "
So…. Why is it harder for us?
We could list many factors but I think the main ones that we should stay with are 3:
Psychological factor
Refrigeration
Developed power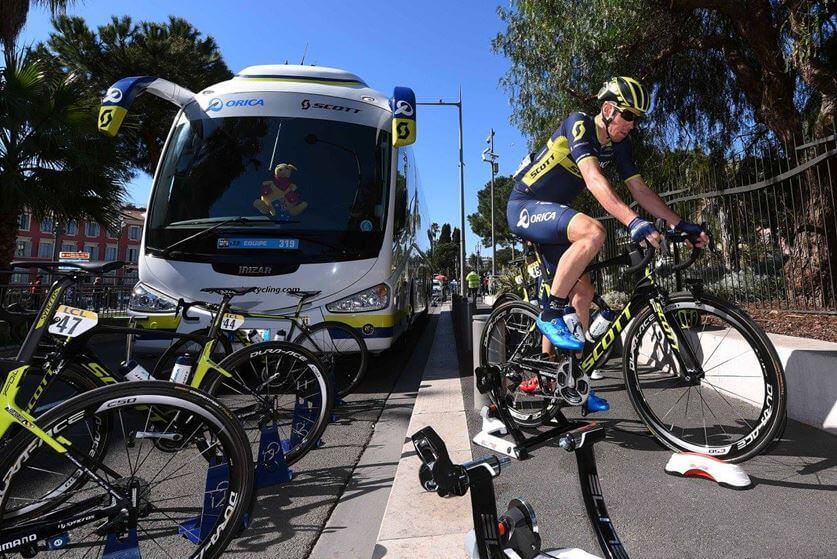 This Orica rider also has a harder time doing roller than competing .... BUT IT DOES!
Can we do any kind of training on it?
This small development on the roller and its uses, I think we will have a little idea what we can develop better in it and what is not, obviously it is a tool for the work of medium and intense rhythms, a fundamental tool for quality work ( anyone who follows on Twitter triathletes like Clemente Alonso or Jonathan Bronwlee will see how they use it in high-intensity work, and they DO NOT COMPLAIN !!) but it will not be (only for psychological reasons and possible dehydration) an adequate tool to roll during hours, for this, the grupetas.
Finally and to dismiss this article, we leave you the 10 best uses that we think a roller should have:
10 uses to do the roller
Quality work in short sessions with controlled series
Training with low availability of time, maximizing benefits and avoiding waste of time (jams, changes of clothes, preparation, etc)
Regenerative work after days of high load
Training with bad weather
Return to calm after a running session or after an exit where we got home at 100% (see any cycling team in a great round ...)
Work of transitions or multitransitions
Technical sessions and high cadences
Proprioceptive and feedback improvements after biomechanical study
Cross training
Return to training after injury or during injury
If even with this you have doubts, have any questions or would like to expand more information on the subject contact us by mail or write your comments, together, we learn all!
J. Luis Caballero
Triathlon Coach - FTCV
email: contact @ behealth.es
Photos: Facebook