How do you know if you are ready for a sprint and olympic triathlon?
We propose 2 workouts of each distance so that you can assess your preparation for the challenge you set for yourself.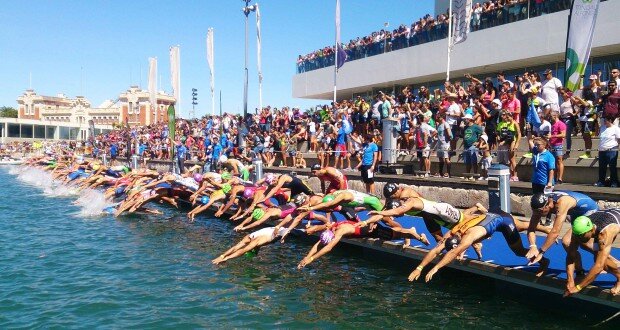 Before debuting in a short distance triathlon such as Sprint and Olympic, you must carry out adequate physical preparation that allows you to finish the competition with satisfaction.
Finding beginners in popular triathlons is one of the most common, but not all of them do it under the same conditions.
The importance of facing a triathlon with adequate preparation lies mainly in your health, both in the prevention of injuries and in the physical and mental stress that your body will endure for an effort of these characteristics.
If we talk about Sprint triathlon we can calculate around the hour and a half of effort for popular beginners, while, if we think about Olympic distance, the duration can even exceed 2 and a half hours.
That is why we are going to propose 2 workouts of each distance so that you can assess your preparation for the challenge you set for yourself.
Sprint distance test workouts
Water-bike transition: Do a transition workout that takes the entire swim segment distance, followed by the entire bike segment. For example: 750m + 20Km bike.
Bike-race transition: Like the previous one, we will carry out a training that covers practically the entirety of each segment: 18Km bike + 4Km race
Training "test" for Olympic distance
Water-bike transition: This time it is highly recommended that the water do it in the sea or similar, since the orientation plays a very important role in the number of total meters traveled.
Later he takes the bike (without rest) to do between 30-40Km on a terrain similar to that of the competition in terms of unevenness.
Bike-race transition: The 10Km of Olympic distance running can be very tough if the preparation is not adequate, so we recommend a transition of 25-30Km of cycling at high pace + 8-10Km of running at medium pace.
When to do these workouts?
To carry out these specific transition proposals, it will be necessary to previously accumulate several months of training (it depends on the initial level of each athlete).
In any case, approximately 20-30 days of the competition is a good time to do it.
How do I rate my workouts?
Very easy, your body (especially your legs) will inform you of the most suffered part to complete the training.
Likewise, you should pay attention to the following days how your body responds to recovery. In this way you can put more emphasis on the segment that you have not yet mastered both in technique and resistance.