Mental and physical training for open water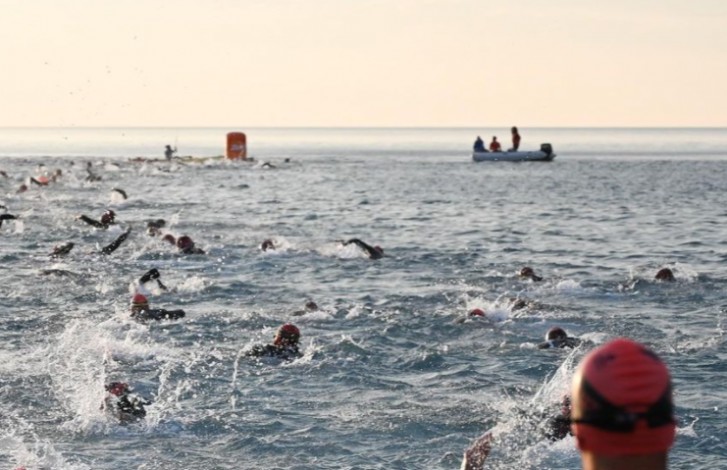 Open water training day and you begin to feel overwhelmed, labored breathing, and very racing heartbeats. Take a few minutes to follow this routine before starting your workout.
Material
For optimal training, the first thing you should make sure is that your equipment is appropriate and is worn correctly:
Hat: if the water is still very cold, we recommend bringing 2, colored bumps to increase visibility
Glasses- Make sure you have used them before and that they fit correctly for you. You can place them under the hat for added support.
Vaseline: Sometimes the great forgotten one, it will prevent you from getting a burn from the friction of the neoprene, mainly in salt water. Apply it to the armpits and neck.
Neoprene fabric: Once it is completely closed, put a little water inside to finish placing it. Make sure that you can perform a smooth shoulder movement and that the zipper and collar are securely closed.
Before entering the water
Instead of arriving and jumping into the water, take a few minutes to observe the environment, the route to be taken, the wind, the possible currents, etc .:
Test the water and get wet to avoid a thermal shock (both cold and heat)
Observe the area. Visualize static landmarks such as buildings to help you find your way when swimming.
Keep track of the wind and currents. Both from outside and once in the water, observe and feel where the current is going, so that you can manage your energy for the most difficult sections
In case of overwhelm, breathe
When we get nervous, the feeling of shortness of breath and pressure in the chest is the most common among swimmers and triathletes with less experience in open water.
Follow this routine To calm down before starting your workout: inhale through your nose for 4-5 seconds, hold the air for another 3-4 seconds and expel slowly through your mouth for 4-5 seconds. Repeat 5-10 times to calm yourself
We know it's very easy to say, but what if I'm in the water? And if there is swell? Well, here are other little tips that you can use:
If the feeling overwhelmed begins when you are swimmingConcentrate on expelling the air through your mouth when you put your head in the water, and if possible a little harder than usual. This will help you take "pressure" off the chest.
If you need to stop, You can do it on your back (the wetsuit will help you float), but keep an eye on the waves to avoid a drink of water.
Always carry a buoy with you. In addition to making you much more visible, in stressful situations it can provide you with very important flotation support. Use it to float while taking a few breaths according to the guidelines above.
Surround yourself with people with more experience. A common mistake is to find athletes alone or accompanied by others with little experience in open water. An experienced stroke buddy will help you calm down in stressful situations and give you security in the face of any unforeseen event.
Enjoy and feel each stroke pushing away unwelcome negative thoughts that may come to your head during your workout. Remember that "the body listens to what the mind says", so if you transmit peace, your muscles will have the necessary relaxation to flow in each stroke.
If you want some training to carry out in open water, do not leave without reading the following articles or if you are interested you can take a virtual trainer course