Swimming training: 4 × 100 to the best average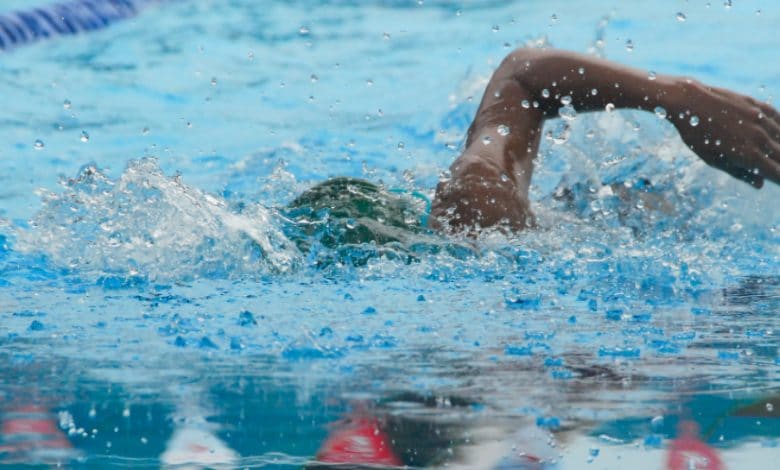 This type of training, called 4 × 100 Best Average, it is very useful to build a base of speed oriented to the competition. It consists of keeping the best possible time in each block of training.
To do this type of training it is important to control and be disciplined with the rhythms.
Keep in mind that you have to swim faster than the threshold pace, but somewhat less than the pace of a sprint triathlon.
If you have doubts about which rhythm to use, you can consult this article where we give you 2 tests to evaluate your swimming level
Next we propose you 3 types of training divided by distance so that you can include them in your routines.
Nomenclature
@: pace, the one that has been set is an example, choose the right one for swimmer.
Training A:
Distance 4.200 meters
400 warm-up
8 × 25 @: 30 (incremental)
4 × 100 @ 1:30 (best average)
400 (50 kick / 50 swim)
4 × 100 @ 1:25 (best average)
400 (50 styles / 50 free)
4 × 100 @ 1:20 (best average)
400 (3 breaths every 3/5 strokes. Change every 100 m)
8 × 50 @: 60 (as fast as possible)
400 cooling
Training B:
Distance: 3.500 meters
300 warm-up
8 × 25 @: 40 (incremental)
4 × 100 @ 2:00 (best average)
400 (50 kick / 50 swim)
4 × 100 @ 1:55 (best average)
400 (50 styles / 50 free)
4 × 100 @ 1:50 (best average)
400 (3 breaths every 3/5 strokes. Change every 100 m)
200 cooling
Training C:
Distance: 2.400 meters
300 warm-up
4 × 25, 20 '' break (incremental)
4 × 100, 30 '' rest (decreasing pace 1-4)
300 (50 kick / 50 swim)
4 × 100 with 30 '' rest (decreasing pace 1-4)
300 (50 not free / 50 free)
400 (3 breaths every 3/5 strokes. Change every 50m)
200 cooling