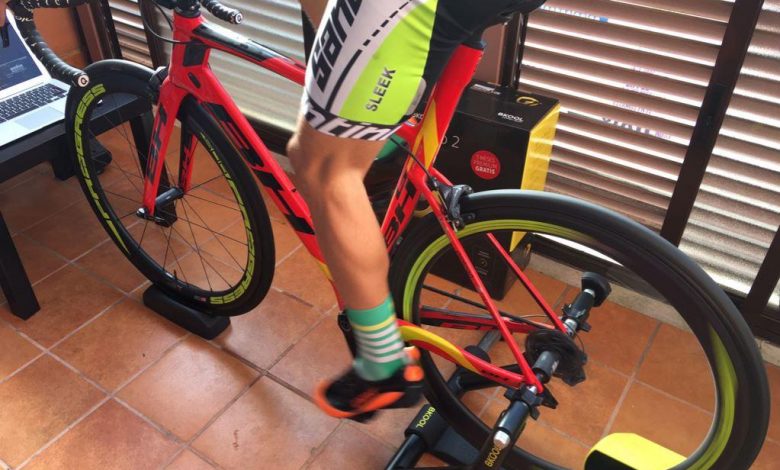 Now that we are in the middle of winter and in bad weather, the use of the roller to complement the training is very widespread.
However, in addition to doing a workout to keep fit, you can try doing specific workouts to improve your pedaling technique on the bike.
These workouts will make you a better cyclist and you will surely notice it when you get back on the bike on the road.
3 workouts to improve your pedaling technique on the roller
Cadence work
La Higher efficiency cadence on the bike is around the 90 pedaled per minute.
This is why we recommend doing exercises in which you alternate the cadence, to internalize this pedaling efficiency and then be able to take it abroad
Training example:
10 minutes heating

3 x (5 'to 80 ppm + 5' to 90 ppm + 5 'ppm)

10 'soft shoot back to calm
To carry out this type of training you will need a cadeniometer or a smart roller like ZYCLE to show you the data.
Remember that the development of the bike must be adjusted to avoid "bouncing" on the saddle even when the cadence is high.
Pedaling to one leg
It is very important detect if we have any asymmetry in our pedaling technique, so we are going to take advantage of the stability of the roller to perform the pedaling alternately with each leg.
You adjust development according to objective, start with something mild to warm up and increase progressively.
Look at the position of the foot, using force with the supporting part of the cleat and trying to make a kind of circle.
An example of this type of training could be:
10 minute heating

4 x (5 'soft + 4' medium + 2 'hard) Alternating each block with one leg

15 'soft shoot back to calm
Strength resistance work
A fundamental aspect that will allow you to take the pedaled efficiently and to hold it like that for more kilometers is the strength of the muscles involved in that action.
To TWork force strength specifically on the roller you should keep sitting, with a lower cadence than usual (around 60 ppm) and a fcardiac recurrence between 80 and 85% of your maxim.
It is very important that your strength is specifically from your pedaling, and not from the "kidney shot" or the tight grip of the handlebar.
This would be an example of training
10 'progressive heating. That is, go up the hardness little by little during the heating

5 x (5 'at 80-85% HRmax + 2'30 "recovery at 60% HRmax)

15 'soft shoot back to calm
Try to include this type of routines in your roller workouts and you will see how the improvement improves when you get back on the road.