Work the swimming technique at home
We present you a series of exercises so you can work the crawl technique from home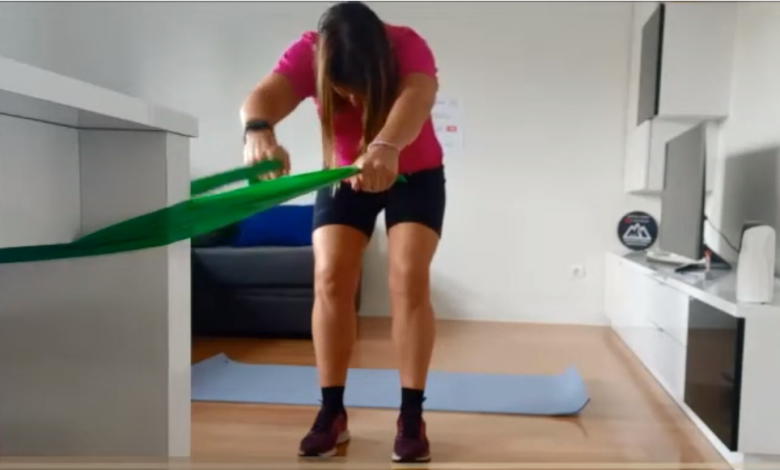 La technique is the basis to improve in any sport, but even more in swimming given that we move in a different environment than the usual one in which we have to get efficient supports to propel ourselves.
We present you a series of exercises so you can work the crawl technique from home simply and with little material: gums.
What to keep in mind to do these exercises?
To carry out the exercises that we propose, keep in mind the following considerations:
Posture and position.
You will see various positions (standing, leaning, lying down) so you can choose according to your possibilities.
It is very important that avoid tension in the lumbar area by slightly flexing your knees and activating the core when you are standing, as well as looking for a chin and foot support in the lying position.
Your posture should not be forced or create tension in other parts of the body.
Grip phase.
All exercises should be performed looking for the high elbow position, that is, keeping the forearm perpendicular to the arm and pulling back with the hand facing down and back.
Push phase.
Final part of the stroke that must be performed vigorously until the elbow extension is completed.
Full traction phase.
Make sure that the elbow is kept high in the grip and the hand path is made below the shoulder, always keeping the elbow with slight flexion and above the hand.
Recovery.
First lift the flexed elbow, so that the forearm is perpendicular to the arm until it reaches shoulder height. Add a slight rotation of the trunk to perform the full movement.
Take a look at the different variations that we propose for each exercise in the following video:
Video of swimming exercises at home
You can perform the most analytical exercises such as warm-up, at low speed and little resistance with the rubber, and then add alternate or simultaneous swim series.
For example: 8 x 20 "swim + 10" rest doing one with the right arm, one with the left arm, another swim in neutral and another one simultaneously.
It is not a substitute for swimming training but it will help you become aware of your pulling movement and work the main muscles involved in the front crawl stroke.
Laura García Cervantes