Gurutze Frades tells us Three tips to improve in Long Distance Triathlon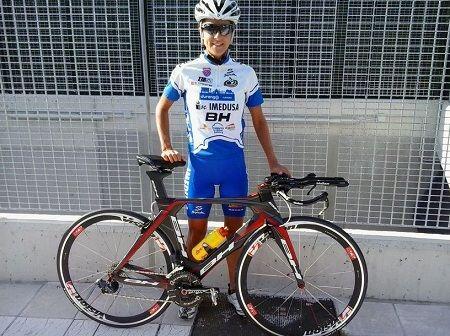 Guruzte Frades does not give his best advice to improve in the 3 disciplines of a long distance triathlon
What do you recommend to our readers to improve in swimming?
I think you have to give importance to swimming. In many cases the improvement that is obtained is minimal and is left aside, but pool training also adds to the total volume of the entire preparation.
You have to be patient. For those of us who have not been swimmers it is very difficult to find sensations, you have to do many meters and the water is very ungrateful.
The work of technique, strength and elasticity are interesting. The strength can be worked in the gym and in the water with paddles. The elasticity doing some stretches before and after swimming. The technique works a lot in the preseason but you can also get a little warm up in the training sessions.
And to all those who find it difficult to train alone or to squeeze themselves, or find it difficult to get into the water, I recommend you to make a small group to stay and go swimming.
What do you recommend to our readers to improve on the bicycle?
Make a good base during the winter, start with short and powerful series (I like to do them from time to time on the roller, I get to make them stronger and more constant) and then start with the series in the coupling, each time longer. Putting training in ports I think is highly recommended, it is a way to work strength.
As for appliances: the cadenciómetro helped me a lot at first, for example to not be stuck, then I started working with potentiometer and right now I think it is an indispensable tool in my bike training.
What do you recommend to our readers to improve in running?
Make a base in the winter, with days of technique. Make stairs, slopes, short series and as in the bike go increasing the volume and intensity.
In the foot race, I recommend not over-training because you can punish the body a lot.
Personally I like to do popular races and I run crosses in winter to get strength and sparkle. It is a fun and enjoyable way.
One last advice.
The improvement in triathlon is not achieved overnight. Constancy in training for a long time is the basis for obtaining results. And very important, enjoy what you do.
Blog: gurutzefrades.com
FB: gurutze.fradeslarralde
TW: @gurutzefrades
History:
Champion of Spain of medium distance 2013
Champion of Spain of long distance 2011 and 2012
7ª global long distance 2013
9ª global long distance 2012
2012 World Long Distance Team World Champion
5 times champion of Euskadi (2 duathlon sprint, 2 short duathlon and Olympic triathlon)
2013 objectives:
The objectives of this year have been the championships of Spain of medium and long distance and the world long distance in Belfort. Go improving in Ironman distance.
Sponsors:
Durango Tourism, IMEDUSA, Mugarra TT, La Tostadora Coffee, Compressport, ZeroD, BH, Rotor, K-Swiss, PowerBar and Spiuk.