Training items
Which is more efficient the distance per stroke or the cadence in swimming in triathlon?
La noción de Distancia por brazada es crucial para los nadadores de piscina , pero ¿lo es para un triatlón ? Lo analizamos en este artículo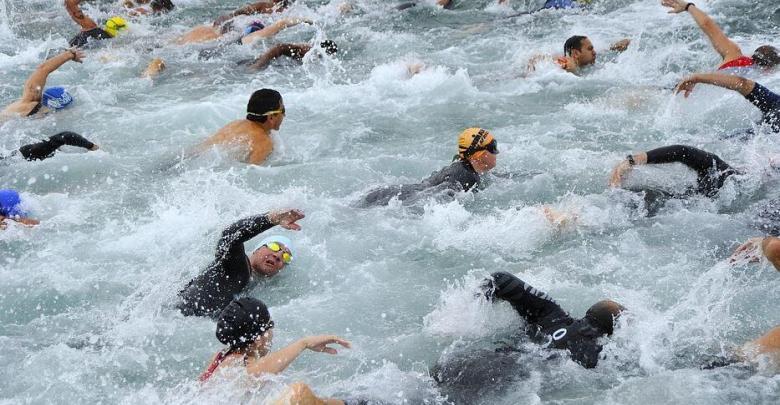 Our collaborator Zone3, nos cuenta a través de una de las embajadoras de su marca Alice Hector, que es la distancia por brazada, la cadencia de nado y que es más eficiente para el nadadro.
La noción de Distancia por brazada (DPB) It is crucial for pool swimmers. Hacer la menor cantidad de brazadas posible es, en última instancia, más eficiente y la forma más suave de desplazarse a través del agua.
Pero, ¿Tiene la DPB la misma importancia para los triatletas?
Although open to debate, the main evidence suggests an absolute NO. La DPB no sería el santo grial de la natación en aguas abiertas que sí es la cadencia: la velocidad de brazada.
Los nadadores de piscina se deslizan a través del agua sin interrupciones
; Por lo general, la piscina tiene corcheras para delimitar los carriles que además neutralizan las olas y cualquier salpicadura de otros nadadores que nadan en los otros carriles. Pueden darse el lujo de ralentizar su brazada para optimizar la fase de captura en la parte delantera de la misma.
El triatlón en aguas abiertas es un hervidero de nadadores.
El agua agitada y ondulada implica que no es tan crucial atrapar el agua lo más lejos posible con una brazada larga, por lo que una alta rotación de brazos se vuelve más importante.
El día de la carrera, con salidas masivas, cuerpos y brazos y piernas moviéndose por todas partes, la parte delantera es la primera parte de la brazada que se pierde en dicha oleada. Con personas y pies ocupando el espacio donde podría discurrir un agradable, largo y deslizante recorrido de natación, se vuelve casi imposible obtener una captura fuerte y larga.
Swimmers who have a long sliding phase en su natación tend to be slowed and beaten For the swarm of swimmers.
Un deslizamiento extendido generalmente resulta en una rotación más lenta y, por lo tanto, menos brazadas por minuto. The impulse, on the other hand, becomes key.
Una y otra vez hemos visto a muy buenos nadadores de piscina, que normalmente dejan muertos en esos entrenos de piscina a sus compañeros de entrenamiento triatletas, salir a mar abierto y ser claramente superados por esos mismos triatletas.
Exercises to improve stroke rate:
Ankle bands
El uso de bandas de tobillo, que básicamente atan los pies, they eliminate the kick and force you to balance the body para crear un agarre más productivo para el avance.
Una velocidad de avance constante ayuda a crear equilibrio, y dicha velocidad de avance se puede lograr más fácilmente con una cadencia alta.
Súper ráfagas
Olvida la técnica como tal; ¡Esto va, sobre todo, de velocidad! La idea es hacer un conjunto de 6-8 series de 50m, con las primeras 6 brazadas de cada largo a máximas RPM's.
Olvídate de brazadas largas o de una captura completa; Es el «disparo neuronal» lo que buscamos. Luego relájate y nada el resto de los 50 metros con facilidad, pero manteniendo una rápida rotación. Asegúrate de que haces estas series después de un buen calentamiento.
Natación con metrónomo
Puedes comprarte un metrónomo impermeable básico para nadar que puedes colocar en sus gafas, este emite un «pitido» sonoro constante (un poco cansino, pero no obstante útil).
Haz coincidir los pitidos con tus entradas de la mano en el agua. Puedes determinar con tu entrenador qué velocidad es la mejor para ti. Este método también es fantástico para equilibrar una posible brazada descentrada.