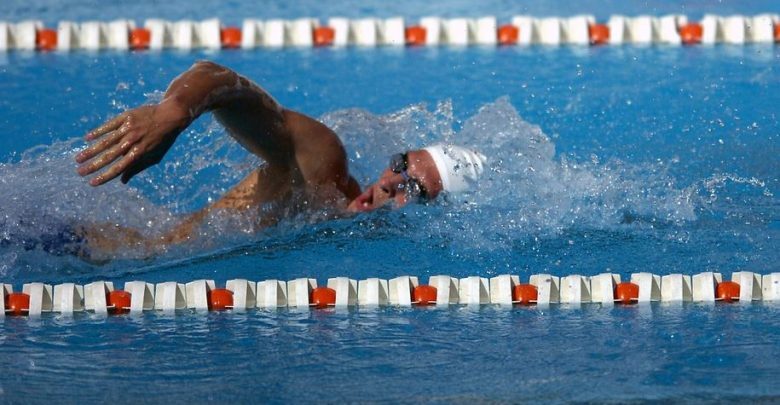 {wbamp-meta name = »image» url = »images / stories / triconsejos_08 / test-velocity-critique-natacion.JPG» width = »300" height = »150"}
If you still have doubts about your swimming rhythm at the time of training, we offer an easy application test so you can mark your swimming intensities
Know our "optimal" swimming rhythm for aerobic swimming training it can be quite complex if we do not have swimming experience. Several decades ago Wakayoshi et al. (1992) defined the critical swim speed (Vcrit) as the highest speed that can be maintained for a long period of time without reaching exhaustion, that is, the one that is related to the maximum stable lactate state (Wakayoshi et al., 1992).
Therefore, if we know the Vcrit we can work on the aerobic capacity of the athlete in search of improvement.
Among the protocols used for the calculation of the Vcrit we found 2 distances test, 3 distances and even 4 distances. All of them have in common the swimming at maximum intensity of the corresponding distances, respecting a time of rest that allows a practically complete recovery before making the next distance. However, the most recommended for its ease of application and its proven validity, is that of two distances (200 and 400 meters) because the use of lower distances can overestimate the result by having a more anaerobic component (Pelayo et al., 2000, Ginn, 1993).
How to do the Vcrit test?

To know the Vcrit by means of the 2 distance test (200 and 400 meters) we will carry out the following steps, always taking the exit from within the water:
Swim 400 meters at the fastest possible speed and record the time
Full recovery, can be active or passive
Swim 200 meters at the fastest possible speed and record the time
Calculate the Vcrit using the following formula:
Vcrit = (400- 200) / (Time 400 - Time 200) *
* The time must be in seconds to be able to make the formula correctly
Example:
Test 400m: 5: 00 à 300 seconds
Test 200m: 2: 20 à 140 seconds
Vcrit = (400-200) / (300-140) = 1,25 m / s
Time in 100m = 100 / 1,25 = 80s à 1: 20
Based on the Vcrit Ginn (1993) established five training zones which can also be related to the speed of 400 meters:
Calculation Training Areas

| | | |
| --- | --- | --- |
| Training area | % Vcrit | % V400 |
| 1 | 75-80% | > 75% |
| 2 | 80-90% | 75-85% |
| 3 | 90-100% | 85-95% |
| 4 | 100% | 100% |
| 5 | 100-110% | 105% |
Therefore, we already have our Vcrit rhythm for the frequent series of 100 at an aerobic rhythm with 20-30 breaks ".
As we can see, it is a easy test to perform in any pool and that it does not require any complex instrument and provides a reliable value to assess our aerobic capacity, establish swimming rhythm and know the evolution of performance, if we perform it in different periods of the season.
Laura García Cervantes
Dra. Science of Physical Activity and Sport
Triathlon and Swimming Senior Trainer
Paratriathlon Specialist Trainer
References
Ginn E. (1993). Critical speed and training intensities for swimming. Australian Sports Commission.
Wakayoshi K, Ikuta K, Yoshida T, Udo M, Moritani T, Mutoh Y, et al. (1992) .Determination and validity of critical velocity as an index of swimming performance in the competitive swimmer. Eur J Appl Physiol.; 64: 153-7.
Pelayo P., Dekerle J., Delaporte B., Gosse N., Sidney M. (2000). Critical speed and critical stroke rate could be useful physiological and technical criteria for coaches to monitor endurance performance in competitive swimmers. In: Abstract book of the XVIII International Symposium of biomechanics in Sports, Hong Kong, 26-30.