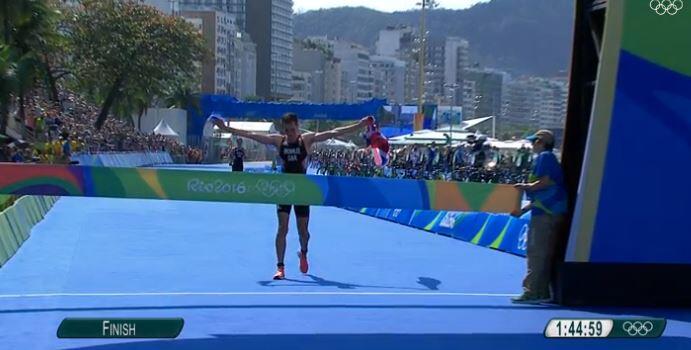 He has managed to win the Olympic Games again after his victory in London
Today the expected triathlon race has been played at the Olympic Games in Rio de Janeiro where we have been able to enjoy the triathlon in the Puro state.
The test began at 11: 00 AM (16: 00 Spanish time) on Copacabana beach, in a circuit just one turn away at sea, where everyone expected that from the beginning a strong rhythm would be established to leave behind Mario Mola and Richard Murray, the fastest this year on foot race, as in the end it was,
The first ones out of the water were Richard Varga, followed by Alexander Fabian and Alistair Bronwnlee in third position. Mario Mola went out to 21 seconds, Fernando Alarza to 47 and Ricardo Hernández to 52. Richard Murray came out more than 1 minute from swimming.
In the cycling sector, where there was a hard rebound at the beginning of each lap, a head group was formed with 10 units with the Brownlee brothers, Vicent Luis, Aarion Royle among others, who began to throw hard from the start, while behind two groups formed one with Mario Mola and another with Fernando Alarza, Chente and Richard Murray.
In the middle of the cycling route, the group of Fernando Alarza, Chente and Richard Murray joined the group of Mario Mola, who were almost a minute apart.
Throughout the laps, the lead group was organized very well giving themselves continuously and thanks to this they could increase the advantage, in the group behind with Mola, Murray, Alarza, Chente, etc. inexplicably there was no understanding among all triathletes of the group to try to hunt down the leading group.
Finally the lead group with the Richard Varga, Brownlee brothers and Vicent Luis at the head arrived at the T2 with 1: 24 seconds ahead of the second group of Mario Mola, Richard Murray and Vicente Hernández. Fernando Alarza arrived a little behind the T2.
From this moment, show in the foot race where Alistair Brownlee, Jonathan Brownlee and Vicent Luis set the pace from the beginning. Although the strength of the British allowed them to leave alone to fight for gold.
Finally the eldest of the brothers Alistair Brownlee He accelerated the pace in the third round and gradually left his brother to reach the goal alone and get the victory and his second consecutive gold in an Olympic Games. Jonathan Brownlee I finish second to 6 seconds. while Henry Schoeman occupied the third final position
Mario Mola in a spectacular comeback in the running race he was advancing positions to finish in the eighth place and getting the Olympic diploma Fernando Alarza ends in the 18ª place and Vicente Hernández in the 27ª
On Saturday, August 20 will be the girls' turn, with Ainhoa ​​Murua, which competes in its fourth Olympic games, Carolina Routier y Miriam Casillas.
Elite Men
We recommend - TRIATHLÓN:
Skechers Go Run 4 with GOknit fabric, a perfect balance between cushioning and reactivity. Complete article: http://bit.ly/2awwOKq