Olympics
How do TRANSITIONS affect the 2016 Rio Olympic Games?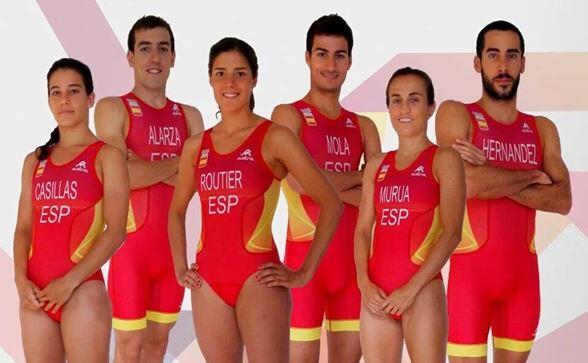 Our collaborator Jose Luis Caballero analyzes the positions of the Spaniards in the transition of the Olympic test
That our TriArmada has medal options in Rio 2016 I think it is something that no one doubts but after knowing yesterday the lists and distribution of male and female athletes is a time to analyze how this affects Spanish athletes.
Getting ahead always to what may happen that day will be key to achieve the best final position and this, both his coaches and us, we know it well
Male test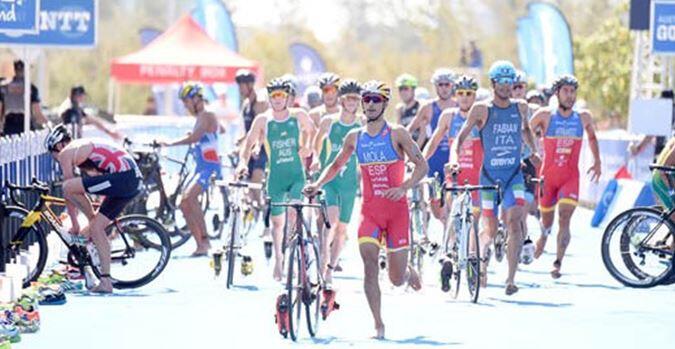 Almost everyone assumes that Fernando Alarza and his great improvement in swimming demonstrated this year in several competitions could be ahead of the water and that Mario Mola could be positioned a little behind but we hope that does not happen and in a more than predictable first bike cut among the 2 along with Vicente Hernández who can be defined as a middle ground between both.
Being able to do a good swim and excellent T1 is the key in this race with a sector of bike so hard to aspire to Olympic medal.
And if this does not happen? How does this affect the Spanish?
Well, theoretically, we are the hardest hit since the water output to Box is very short so there is no material space to recover positions with a good run on foot and, in addition, we are positioned last (Positions 54 to 56 ).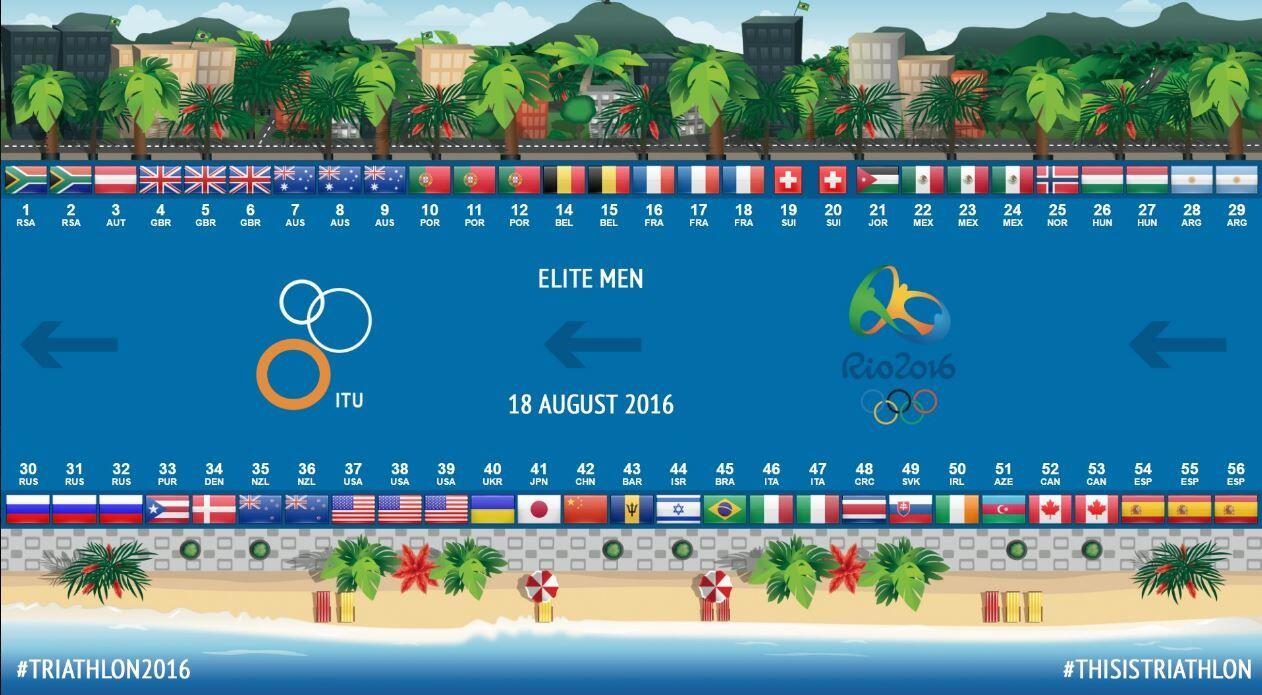 What happens with this distribution of numbers?
Very simple, with the distribution of numbers that we see in the previous photo, leaving in front of the water is even more decisive for our athletes since the Spanish transition will always be slower than, for example, the British with the Brownlee Brothers to the head.
Why?
Because this distribution makes our 3 triathletes have to cross the complete Box with the bike caught in the saddle while those that are placed to the left of the photo would run it without a bike. This could give them a few extra seconds that can become decisive depending on the course of the test.
Something that would be brutal would be to "get" a little montonera in the Box and could not leave at full speed with the bike, we hope it does not happen but in an event of these characteristics should be prepared for everything.
And now we could say ... But this is not compensated in the T2?
There the Spaniards leave the first the bike and start running while the rest have to run through the Box with theirs ....
Well, the reality is that Yes and No.
· Yes, because in the total calculation of the test, everyone will have traveled the same number of meters through the Box with their hand bike.
· Not because it is obviously not as important to lose 3 "(for example) starting with a bike sector in which to be cut from the group and be able to lose in 40kms over 1 'to lose those 3" before a race on foot that may or may not be decisive but where it has already been ruled that you are in the group of the chosen ones.
Obviously it will not be the same for a specialist in swimming (Richard Varga) that for a runner (Mario Mola), the former would prefer to waste time in the T1 while the latter would prefer it in the T2.
Undoubtedly, in the men's test we could be the big losers of this distribution but, knowing in advance what could happen we only have 2 options left:
1 Get out in front of the water
2 Mark some excellent transitions.
3 Take advantage of the possible advantage that it would give us not to run on the T2 with a bike and to lead the race on foot from start to finish by the OLYMPIC GOLD.
Female Test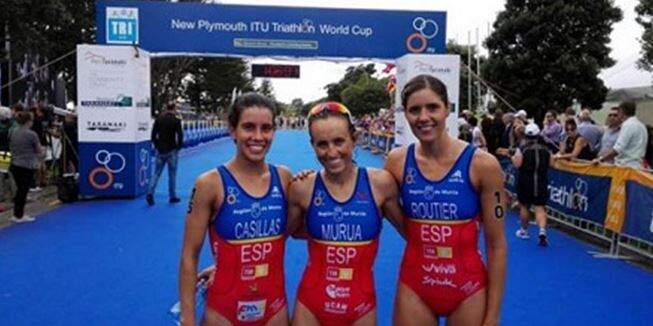 This time the chosen ones to compete in Rio have been Ainhoa ​​Murua (4ª time Olympic, Athens, Beijing, London and Rio), Carolina Routier and Miriam Casillas with a post after an exceptional foot race in Yokohama.
Of the trio we could say that Carolina Routier defines herself as a good swimmer, defending herself very well in cycling, Ainhoa ​​as an all-terrain woman who will surely give us another new joy and Miriam as the best runner who could perhaps go further back than the 3 Water.
And with the female distribution of numbers, how does it affect us?
Well, here, a priori, we are in an ideal position since at the exit of the water we do have a little more space to recover positions unlike the men's test, also having the possibility of Bárbara Riveros in the 32 position as "wheel to follow".
In this draw we had a bit more luck and we hope to be part of the leading group.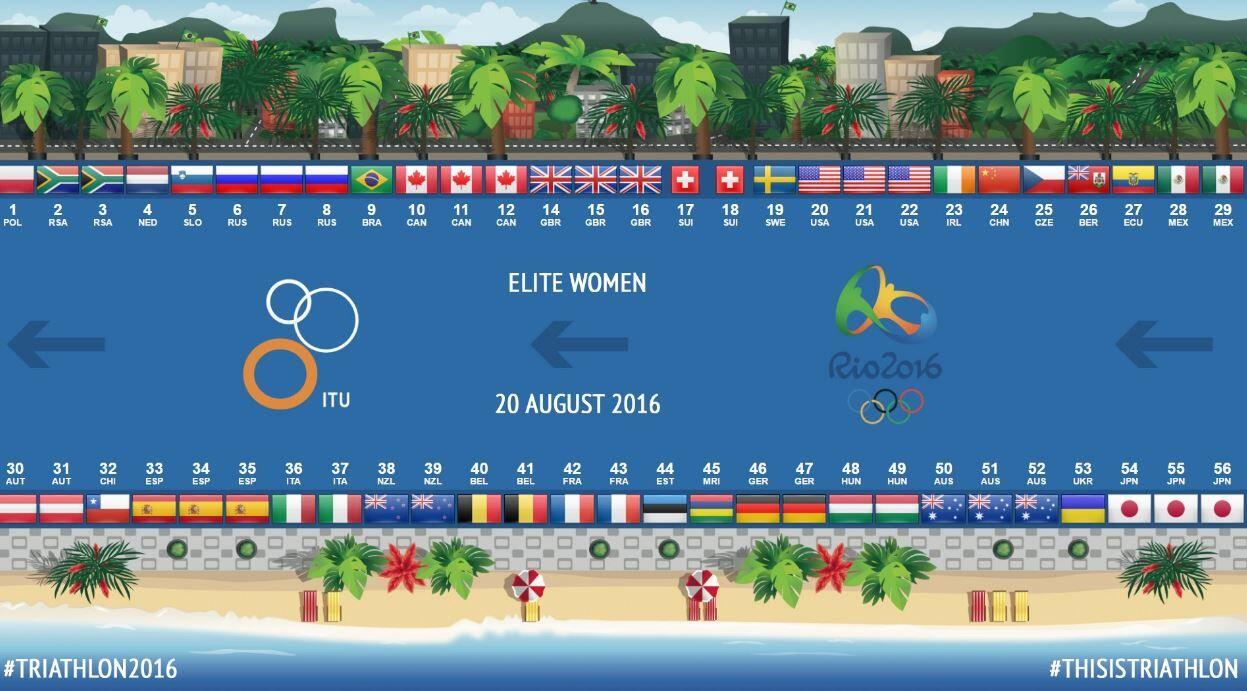 In short, a test that will not leave anyone indifferent with a first transition that is undoubtedly positioned as a key element, a first round of cycling where it may be sentenced who has and who can not access a medal and a foot race theoretically much slower than in London 2012 where downloading from 30 is considered very very complicated.
We will have to wait for the 18 and 20 in August to see what these Rio de Janeiro 2016 Olympics bring us and ... by the way ... Do not forget to be fast also in the TRANSITIONS
J. Luis Caballero
Triathlon Coach - FTCV
email: contact @ behealth.es
Photos: ITU, FETRI
We recommend - TRIATHLÓN:
Skechers Go Run 4 with GOknit fabric, a perfect balance between cushioning and reactivity. Complete article: http://bit.ly/2awwOKq