The hour of the siesta by Felipe Gutiérrez: CROSSFIT
Felipe tells us about the Crossfit World Championship that took place in Madrid this weekend
First of all I have to say that when I entered last Sunday at the Caja Mágica in Madrid I realized that the show that was being prepared there made me a profane Crossfit. I looked for a good place and I started to observe and think ...
This afternoon when it was nap time I was still under the effects of Crossfit, but many things made me doubt. I did not want to shoot against the modality but I did not want to praise what many spectators of the show lived intensely from the stands.
There was a very "crossfitero" audience willing to applaud the athletes who were competing there
Music butt, party and sandwiches of all kinds and drinks of all kinds and spectators of all kinds.
I am not very clear that many of those who shared the stands with me were practitioners of this activity but that if it seemed that "they were cool". I heard some comments and I thought that little or nothing they know about sport, training and daily preparation for this or another modality. Maybe I'll play the "chunga" grandstand.
Well, with the music began a warming? of the participants where the rigor seems to be based on that you have to fulfill a show, show, sport, physical activity ... I thought at first a bit of everything and in the end a lot of everything, yes, I got bored during the two hours that lasted "the move".
But let's go to the show. More than 6.000 people witnessed it, the presentation of the participants divided into 4 teams: Europe, Canada, Pacific and USA encouraged and a lot. A little puzzled by this combination I could see that the most loved and known was the American Rich Froning, the crossfit star of recent years, people know him and love him.
Madrid was the world headquarters of CrossFit. The Magic Box hosted the fourth edition of the «Reebok CrossFit Invitational», which is what is called this CrossFit World Cup in which the US, European, Canadian and Pacific teams will fight to become the strongest men and women on earth
Two hours to the limit, five tests played at the top and there I started to know things of this modality, my neighbors knew a lot and told me that there is more of 300 box in Spain (they are called the spaces where they work, no gym or anything similar) and in Spain there are already more than 45.000 practitioners.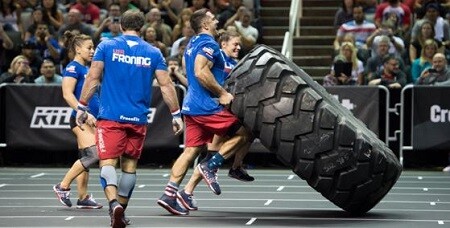 They told me to join a Facebook group Crosfiteros Hispania https://www.facebook.com/groups/135354839862970/?fref=ts and so I could learn more things. I signed up and soon I could see among the members some triathletes and even one who trains with me. What a surprise!
Little by little I am interested in this modality and of course I want to know more of this than in 1995, Greg Glassman It started operating in Santa Cruz de California as a training system with varied and functional movements and executed at high intensity.
The training system is complete because it plays and combines different exercises from various disciplines such as weightlifting, gymnastics or athletics. Running, riding a bike, jump rope, rowing, rope climbing, rings, pull ups, sit-ups, squats, push-ups, weights or power and speed starts are some of the demanding tests that CrossFit feeds on.
But Glassman began to raise it for people who needed to be in an enviable form as policemen, firemen, marines, military ... these were the first to work with this method. At present Spain is the second European country with more practitioners after Great Britain.
My local neighbors in the show obviously had no idea what I was doing and I was introduced to how "the boxes" worked.
According to them, some well and others very bad, some names gave me, but I decide to forget it and experience myself. It seems that in some places the boom makes the training sessions take place without any scientific rigor, without trained professionals and in others the rigor is different with specialists in training. How in all sports I thought!
They told me that this is a business set up around all this activity and that it moves a lot of money, many followers who pay and pay to get stronger, do this activity that is great among their friends and that many people use to connect, this They told me between laughs. Again I thought: How in all sports!
For them the most important thing is that little by little they themselves are getting better, without rushing and sharing with more trained athletes. In many places, they tell me, that does not matter.
I left the Magic Box where I already commented that I had been bored watching the show because for me it was not comparable to other indoor sports like athletics, basketball, the same tennis that is played there but something I had inside me that I wanted to find out.
I had two days to investigate live and on Monday I was in one of the most 50 box in Madrid, well organized, good service and it seems that the students are delighted with their treatment and improvement.
But on Tuesday I found that box that would never go, just the opposite of the previous ... and I thought again: How in all sports!
I know some of you expected me to put "to give birth" to this modality, activity, sport or whatever you want to call ", but I have the same arguments that I could have with other sports. What is clear is that the number of practitioners increases and although everything seems very beautiful a physiotherapist told me yesterday: "the number of patients coming from the Crossfit is increasing day by day". It seems that the treatment of injuries also opens up to a field that is growing, where also the "hollow heads" enter completely without any or little preparation and in many cases directed by technicians? with little or no knowledge.
The truth is that the siesta cleared my doubts and I thought: How in all sports! but I also had a nice dream, I dreamed that very soon in all sports will be directed by qualified personnel, people who have studied, who are professionals of physical activity ... will it be only a dream?
Felipe Gutiérrez
Photo: Bluevip / fitness.reebok