Felipe
The hour of the siesta by Felipe Gutiérrez: "If it works well"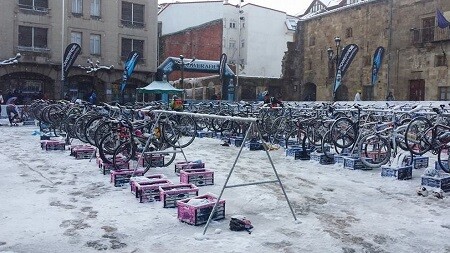 This week Felipe tells us about the new circulars published by the FETRI
If in the Fetri something works well it is the Competition Area that I know quite well, but lately every day that passes I am losing more connection with them, or as the politicians would say I am in the "disconnection phase" and dedicating myself to other issues in the world of triathlon and fundamentally my daily dedication to training and only to training.
I do not want to organize anything, I can help anyone but I know that the life of the organizer has more sorrows than joys, I have lived in my own flesh and I no longer simply like it, I prefer not to catch the tantrums that you get when something goes wrong or when some "fly cojonera" mess with you just to get or because his medal has a tan lighter than his partner.
But if last year you were the Technical Director of Madrid Km0 ?, others will tell me. Well, this year I'm not alone.
I do not want to make "fly cojonera" with the Competition Area of ​​the Fetri, but if from here I would like to say what I think of some issues and if they are worth in positive that serve as a contribution.
You will tell me: tell them directly! I have already told my colleague Jorge Garcia and it is clear that we have different points of view and that is not bad. I also wanted to belong to the different Committees of the Fetri in order to contribute my ideas (some maybe more bad than good) and the President told me that I would consult him and after so long it is very possible that nobody liked him and neither interest what I can contribute, maybe some good idea I will have.
This I say as a preamble so that no one tells me that I take advantage of my column, because I have never refused to collaborate with Fetri or any other federation, club, organizer and many times what I have received has been indifference or as want to call
I'm sure I have a little fever, in my nap time with the cold in the street I feel that torpor of the afternoon and bring me memories of issues that I have lived and it seems that now is solved in another way without further .
To start suddenly and masterfully and legally, very legal have appeared on the page of the FETRI 41 Circulars that surely you have not heard but you can continue here: http://triatlon.org/triweb/index.php/fetri/2016-circulares
I have to say that these circulars put "betrayal" with nocturnality and treachery, do not warn and you put them without more and can change sports issues without anyone and by "royal decree." I am older and these Circulars remind me of "old times" or the parochial sheets of the priest of my town.
They appear and if you have not read them, you swallow them ... and that's it.
Are there things that I do not like? You are right! For example:
1º The distribution of the number of places to allocate in the duathlon classifier I think it's not right. If the squares are shared after having dropped a test should be the same in the 4 qualifiers, nothing happens to repel the people who ran Eagles days before taking the circular, but not that they have fewer seats and the three remaining qualifiers. Previously that was indicated when there were 5 or 4 or 3 classifiers how many were classified and not a posteriori. It is unfair to the people who ran in Águilas and have been at the doors. But as the circular puts it ... well you swallow it.
2º Another question that annoys me and that I already communicate to the Fetri is that when a Cto de España is not celebrated, for example the winter triathlon and just a year away from the ranking of clubs the score, in addition to being "that score" of winter triathlon last year that was a duathlon and valued as a winter tri.
Well, they answered that there were still other options this year to do it back in March and then they would not change it. Well I do not know if it has come out in any circular, I do not read them all, you can imagine why I say what I think of them, although I advised them to a lawyer, I really insist I do not like them.
I already sent a claim when they scored it and I was not even asked ... but I understand, nobody is going to change those ideas they have and less if they come from me.
3º and to go finishing and not to do it very long. Clubs or at least mine is uncomfortable at the time of pay the inscriptions to a championship of Spain or qualifying have to do the registration or better the payment in two different pages. I register the elite and pay with my card, that if one by one, with how easy it would be to pay for example five or six at a time, and the Age Groups send me to another page to pay in it. I can print the invoice from the elite, from the Groups I have to ask for it and from what I see, it is taking time to arrive. I do not know if in your clubs this does not matter in mine if, as it counters you create enough problems. Can not you fix this and make it easier for us?
Well today I wanted to complain about something, I still think that the Fetri Competition Area has a lot of work and some things always escape, but if someone complains they should think about it and everything I have written I already gave them my opinion and the conclusion I got after doing it is "they do not give a damn what I said", maybe I'm the only one who complained about this bullshit?
Well, I do not have things in my head, but I do not have more space. Next Wednesday more.
Felipe Gutíerrez