Felipe Gutiérrez's siesta time: "Today I do not feel like it"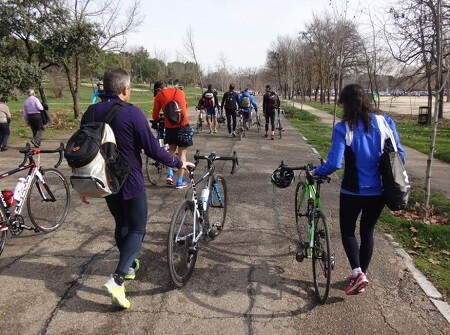 Felipe tells us about the poor condition of the Casa de Campo
The truth is that today I have no desire to talk about triathlon, or triathletes, or tests, or presidents or future candidates or training, or anything that reminds me of all this "circus".
So I better "get" a good nap with save me fund that is what best makes me reconcile the dream.
I roll over on the sofa and I realize between nodding and nodding, fuck as the Matamoros screams! , is almost "sticking" with the Mila Ximenez, if the former Manolo Santana.
I can not take it anymore, the idea that has been in my head for a while now comes to me "gushes" and I will have to write about it and leave it then parked.
For a long time, a long time I go like many to the House, there are many competitions of all levels and trainings of many people, running by bike, or simply people who walk there making their time pass one way or another.
Lately I go someday without there being competitions and I see the chaos in one of the best sports "facilities" in Madrid, I think it is an ideal place since they closed to the traffic of cars and what was not cars, the place could be a perfect meeting point for the lots of people and especially of athletes who there get to do "their hours of sport".
But there reigns a little chaos in terms of care, conservation and maintenance of roads, roads, spaces to enjoy.
When I go and see the football game next to the parking lot where 20 or 30 teams are watching me, so many people reach a consensus without having to mediate, or arbitrators, or anything. They could be an example for politicians who have us up to their noses with so much investiture or now I'm with these or with them. Live the democracy of sport, of football more popular than anything else. There are even goals, penalties, fouls ...
What is chaos are the roads where many people practice their sport. And I say "their" sport because on the same road and in all directions are runners on foot, road bikes and numerous groups of cyclists, or with BTT that interspersed roads with roads, people with their dogs and in some cases loose with the different fights between them, people skating in line, with the board, with scooters, small children with their parents, couples walking, There is everything on the same stage.
The truth is that the asphalt of these roads is "cow poop", Broken, destroyed, the stop signs on the asphalt are not seen, nor the stripes that mark the medina, when there is, we go a monumental crap, I do not know how there are no more accidents, surely the saint who protects the House of Campo is a good "protector".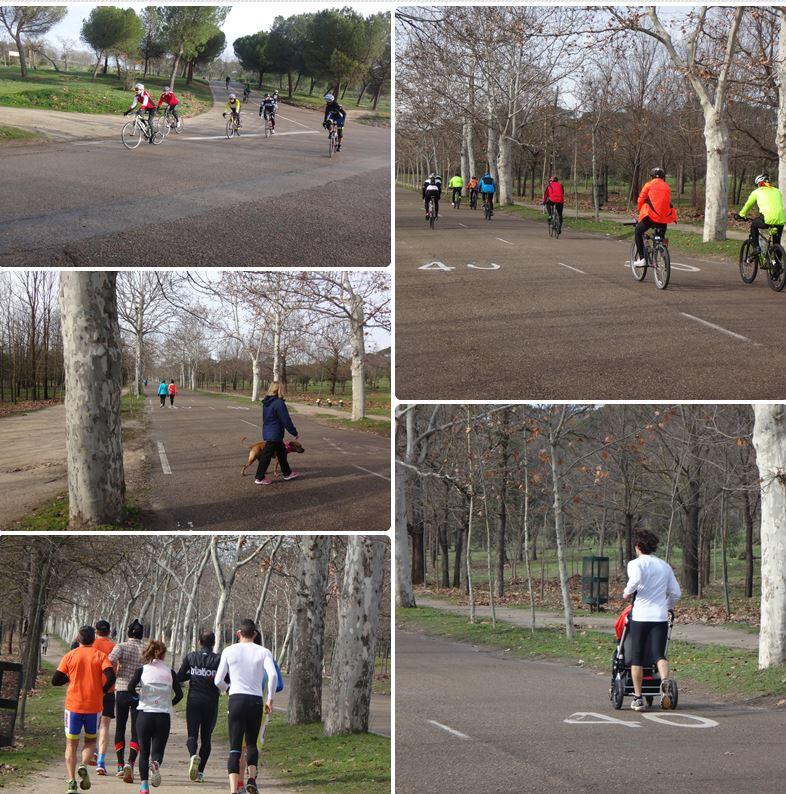 The dirt roads, well, a crap. Someone would have to start thinking about fixing this space.
Maybe to put unique addresses where no one can crash to go in the opposite direction. Good ways to run, spaces for dogs, in a word reorganize the Casa de Campo and create an ideal place to practice sports and leisure.
Soon there will be competitions of our sport, duathlons, triathlons and even an international event like a European Cup.
It would be nice if the new director of Sports of the City Council, Javier Odriozola "put a hand", but surely the person responsible for the Government Area of ​​Environment and Mobility, Ines Sabanés would have much to say, it is also understood as it is licensed in Physical Education and Sports. So they could do something, I think.
I would love to be able to "work" on this plan, well there is no plan, it is that I dreamed it in this afternoon's nap.
The Federations could do something, or maybe they do not care or they can not play tricks. For example, the Triathlon has managed to take the T2 to the Palacio de Oriente for the international test of the European Cup and the elite of the qualifier, but have you looked at the asphalt?
I do not have much desire to talk about anything and surely this column, the 60ª that I carry in Triathlon News will not be read by anyone, I think that each one of us goes to our roll and this who cares?
Felipe Gutiérrez