The siesta time by Felipe Gutiérrez: A gesture, we need gestures in this sport !!!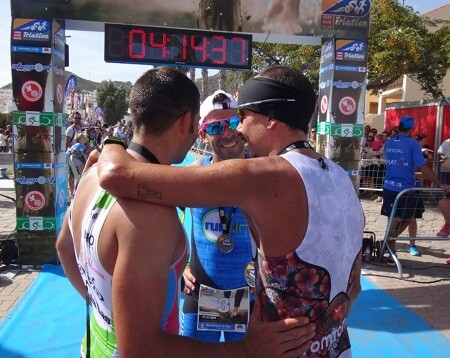 It is clear that this sport sometimes shows cold, each one to "his ball", many ignore those who train even at his side, I do not know if this is dehumanizing. New people come to the world of triathlon and we think, what do you want?
It seems that everything is mechanical, without meaning, without ..., that we could think.
But I have lived the triathlon day after day for many years and I can assure you that this weekend I have lived a few moments of gestures. Because of the possibility that I have of being in the front line of the triathlon show, sometimes you get situations that give you the "goose bumps" and this Sunday I could live some.
The photo with which I illustrate this column is the most revealing document of what I want to say, and you will have seen it on my facebook, but I want to bring it here and comment on it.
En Cabo de Gata, in his triathlon the first three after crossing the finish line hugged and talked. I was close, by his side, and although I heard what they were saying, obviously I won't say it, if I have to assure that there was fellowship, sportsmanship, very good vibes and above all a gesture of those that undoubtedly are in the triathlon but that we would like to see more often.
I approached them and I retired to take the picture and enjoy that moment, they spoke without making comments against anyone or anything, they talked about them, the triathlon, they enjoyed having lived the essence of triathlon. There were no negative words, there was only fellowship, the three of them were having a gesture that simply came to me.
This afternoon when I was in my nap time I remembered it and I had to sit on the computer so I would not forget and capture those moments clearly.
Thanks to all three and thanks to all the triathletes who day by day live this world of triathlon.
Leave the accusations at least this week, stop reproaching us if one goes or not going to wheel and reward these and other details that we could live this weekend in this test and others. Let's protect the positive details and fight everyone so that the reality of triathlon is "good vibes".
They were not the only gestures, but I like to highlight it as something special.
From this nap I have risen with enthusiasm, with positivism and I do not hesitate to tell the three of you and all, thank you for finding those GESTOS that leave without forcing situations. You and all who practice it are champions.
Felipe Gutiérrez