Andrés Carnevali and María Pujol prevail in the III Triathlon of Málaga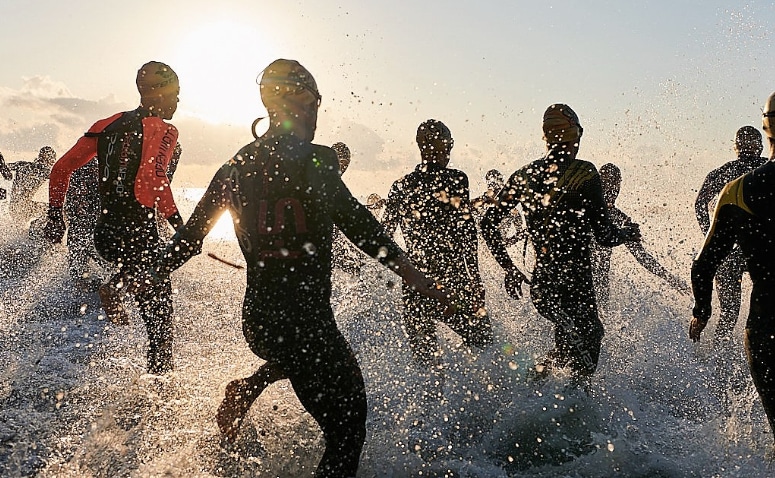 Misericordia beach and Paseo de Poniente have been the scene this afternoon of some of the biggest outdoor sports events that can be enjoyed in the capital of Malaga. More than 1.000 athletes participated today in the III Malaga Triathlon, a test in which the participants did a first part of swimming on the beach, a second segment of road cycling and finally a foot race along the promenade. A physical and mental challenge for athletes.
In front of a large audience that was walking in the area or enjoying the beach, the first 400 athletes who participated in the Olympic category (1,5 kilometers by swimming, 40 kilometers of cycling and 10 miles of running) left in a day a little cloudy, which favored the athletes.
The first competition segment, the swim segment, was completed in the blink of an eye. In less than 20 minutes, the first participants were already out of the water and looking for their bicycles. After the 40 kilometers of bike, the forces began to fail in some participants. But a small group of three participants managed to open a gap so as not to lose the top positions.
The segment of running race was the last and definitive one; the malagueño Andrés del Castillo Carnevali crossed the first goal with a time of 1: 56: 19. The triathlete of 24 years and belonging to the club Alhaurín-Conscorve raised his arms after seeing that the enormous effort made him to win the test. Second came Eduardo Moreno (Adsevilla-Zambru's Bikes) and third, almost followed, Rafael Orellana (Marbella Triathlon).
In the girls, Maria Pujol (Adsevilla-Zambru's Bikes) was spectacular and returned to get the win in the regional championship. The second classified was Elena Aguilar (CTOA) and the third Belén Donoso (swimming club Córdoba).
In addition to the Olympic category, "Sprint" and "Súper sprint", shorter distances, were held on a magnificent day of competition, with a great atmosphere and good organization by the Andalusian Triathlon Federation.
newspapersur.es