The third edition of the Astromad gives it the title of "extreme triathlon"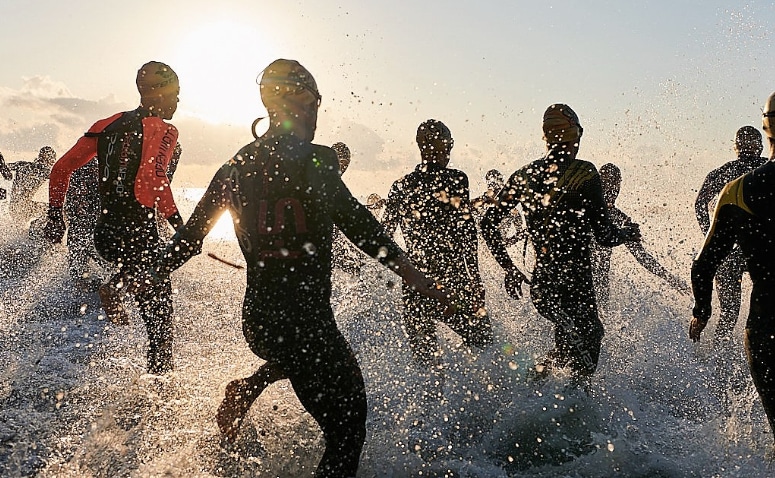 One more year, the Picadas Reservoir welcomed more than half a thousand triathletes who came last Saturday, June 23 to participate in the various tests offered by this competition, from the Sprint distance, through the Olympic to finish with the test star for the most daring "Half", where there was also the option of relays, where each participant completed a segment of the competition.
In this third edition, the Half test became a real challenge of courage for all those who participated in it, since during the day really high temperatures were reached that offered the athletes a competition if even more extreme.
In a natural setting of extraordinary beauty, the cycling segment passed through a unique natural environment that crossed the towns of Pelayos de la Presa, Cebreros, Hoyo de Pinares, Valdemaqueda, Fresnedillas, Colmenar de Arroyo and Robledo de Chavela, a setting that has been chosen on multiple occasions, as part of the stages of the cycling tour of Spain.
One of the participants in the Half distance in the female category, Eva Valero, started one more year as a true ambassador of this test since she has been champion of previous editions. Upon arrival at the finish line, he made the following statements: "This is the third year in which I participate in this test, what really attracts me is its toughness, this test meets all the requirements that I look for: swimming in an incomparable place with icy waters , a cycling sector with an unevenness that brings out the maximum level of resistance to the suffering of each one, and a round-trip foot race circuit that little by little is undermining you psychologically. Added to this, the weather conditions this year make it a really extreme triathlon "
"Also this year has been especially hard for me, on the one hand the weather conditions, on the other that in this edition I had to stand for about 15 minutes thinking that I had to leave due to the breakage of the bike's gear lever, but that's where my adventurous soul came out and with a rag I was able to solve my mishap in a light but effective way and be able to get to the pits as I could to complete the cycling segment and start giving everything in the race "
"In such an extreme triathlon, really competing and reaching the finish line is a success. Climbing the podium is always a source of pride for a job well done, both in the race and before it. This year I liked it even more, for knowing how to move forward in the face of obstacles on the way and overcome myself, as I am sure will have happened to many of the participating triathletes "
Rankings are now available at:
http://www.triatlonmadrid.org.es/?seccion=navegacion&nodo=81ac6e50fe75ab94fc93e6c9d0555db7&d=23&m=06&y=2012&show=dia