Material
Train2Go is born, a tool for coaches by Antón Ruanova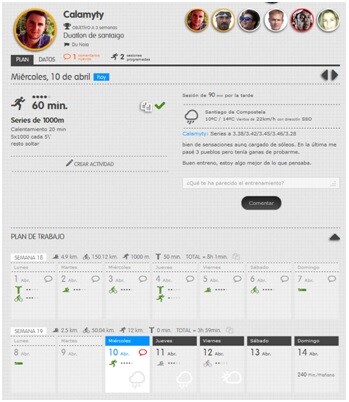 A new web tool designed by triathletes and for triathletes. Program and track the progress of your athletes from a single platform. Receive your feedback in the most comfortable way for both you and them.
Train2Go.com born with the aim of simplifying life to both coaches and athletes when planning and following training. There are thus complicated sheets of Excel, emails that come and go, drop box and feedback that never comes. From a single website, coaches and their athletes will have absolute control of evolution and monitoring, at any time, from anywhere and on any device.
We try to adapt our sport and our methods to the new era in which the lack of time and the need for personal organization are becoming increasingly important. We know that every minute counts, and you have to invest them in what really matters. At all times we take into account the needs of the coach to organize and manage all their pupils in the most efficient way, and the athlete to know where he comes from and where he is going, without forgetting what is truly relevant. Day by day
The initiative is based on the personal need as triathletes to organize time, information and feedback in the most comfortable way possible for the two profiles involved in communication. Trainer and trained. Train2Go.com aims to solve this problem from simplicity and intuition. Highlighting each element with the importance that we believe it deserves and no more. The rest is enough. From Train2Go.com we hope that I can help you to achieve each and every one of your objectives through well-planned planning.
To get in touch with us you just have to enter our website www.Train2Go.com or send us an email [Email protected]. We will be happy to help you.