The Royal Navy Juan Carlos I welcomes the first day of the multitudinous Valencia Triathlon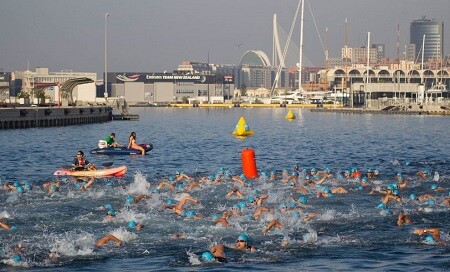 Roberto Sánchez and Sharon García have been the winners of the Sprint distance on a morning where the Women's Triathlon and the Supersprint have also been played.
Valencia Triathlon is already underway The fifth edition of the event, authentic triathlon reference at the national level, started yesterday with the dispute of the most popular distances: Women's Triathlon, Supersprint y Sprint.
In a day marked by intense heat, half of the 3.500 registered athletes have disembarked at the Royal Marina Juan Carlos I to enjoy the sport in an attractive route that has culminated in the finish line, located in the emblematic building Veles e Vents .
Paqui de Asis, from the Morvedre Triathlon, was the winner of the Women's Triathlon (350 meters of swimming, 10 km of cycling, 2,5 km of running), test that has opened the competition, stopping the chronometer in 41 minutes 45 seconds. Immediately after the Supersprint has been played (350 meters of swimming, 10 km of cycling, 2,5 km of running), in which David Aguilera (Morvedre Triathlon) has been imposed in 34: 05 and Helena Quintanilla (Arena Alicante) in a time of 40: 41.
With nearly a thousand participants, the Sprint (750 meters of swimming, 20 km of cycling, 5 km of running) has put the finishing touch to a day that has enjoyed the attendance of thousands of spectators who have approached the Navy to enjoy the sport of transitions.
The triathlete Sharon García, from CD Moncada, has climbed to the top of the podium with a 1 time: 10: 32, repeating a victory she has already achieved in 2013 on the same stage. In the men's category, the winner was Roberto Sánchez Mantecón, from the Devil Triathlon Club, who has reached the goal in 1: 00: 19.
Second day
After the first part, Valencia Triathlon is preparing the staging, on Sunday, of the second day of the competition. It is dedicated entirely to Olympic (1.500 meters of swimming, 40 km of cycling, 10 km of running) that will start the 07: 30 hours and that, until well into the noon, you will see parading near 1.700 athletes.
Further information: www.valenciatriatlon.com