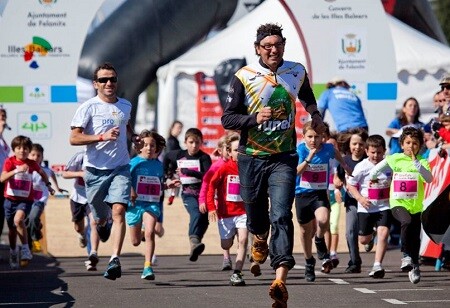 The TriKids was the duathlon for minors with the highest participation in the Balearic Islands last year.
Porto Colom (Felanitx) is ready to host this weekend's party triathlon in Mallorca with the celebration of TriKids Duathlon for young people between 7 and 16 this Saturday as a prelude to the dispute on Sunday of the International Triathlon of Portocolom.
Almost 1.000 athletes of all ages will be the protagonists of a total sports weekend.
As a prelude to Portocolom International Triathlon, which celebrates its XVII edition this Sunday, arrives on Saturday 12 of April the III TriKids Duathlon for young people between 7 and 16 years. Throughout the weekend Portocolom will be the nerve center of the Balearic base sport with the dispute of this hilarious competition organized by the triathlon school of the Club Triatló Portocolom in collaboration with the organization of the Triathlon of Portocolom (Kumulus).
Last year's participation will be surpassed (with more than 140 minors) from the prebenjamin to cadet categories, and will be the appetizer to the spectacle of the majors of Sunday in the same scenario.
Some of the professionals who will compete on Sunday will sponsor the test, help and encourage the kids. The TriKids Duathlon has the collaboration of the Balearic Triathlon Federation.
The Portocolom International Triathlon, which takes place this Sunday, will be one of the first triathlons of the season at 2014, the next 13 in April, after 16 editions and keeping the attractive 55.5 and 111 formats (1 kilometer of swimming, 100 of cycling and 10 of foot race).