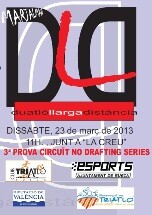 Less than a week away from a new edition of this emblematic Long Distance test, and scoring for the No Drafting Series Circuit, as a third test within the Duathlon mode, the Swedish DLD is in its fourth edition; having been the winners in the 2012 Carlos Aznar y Maxine Mckinnon.
The distances to be covered will be 10 km on foot in the first segment, 85 cycling and for tarmin, 20 km of new run on foot. Registration is open until Wednesday March 20
The organization has set a series of rules on cutting times that participants must take into account. Also, drafting is prohibited.
Source: triatlocv.es