Marcel Zamora second in ISOSTAR EXTREME MAN Narbonne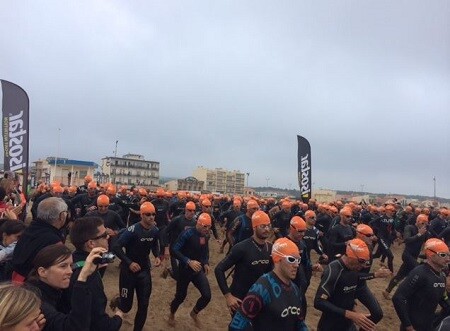 The third edition of Isostar Extreme Man Narbonne, which was held on Sunday 7 in September, brought together five hundred triathletes ready to overcome a new challenge in the French town.
One more year, the good atmosphere and the beauty of the circuit have been the predominant notes of a day in which two distances have been disputed: Short and Half.
The short, great novelty of this edition, has been responsible for opening the morning with a circuit of 900 meters of swimming, 27 kilometers of cycling and 7 kilometers of running. With the three segments designed in a single lap circuit, the triathletes have enjoyed a race without drafting in a spectacular environment.
Thierry Boyer has been the first man to cross the finish line in a 1 time: 38: 48. Behind, Cédric Terrason (1: 39: 38) and Jean François Rougelin (1: 39: 52). In the female category, the winner has been Anais Rivas in a time of 1: 49: 12. Second, Sophie García (1: 56: 32) and Lucie Lyon (2: 02: 27).
Costes is imposed on Zamora in the great duel of the Half distance
The Isostar Extreme Man Narbonne in Half distance It has been the highlight of the day. In it, French Antony Costes, runner-up of Long Distance in France, has demonstrated the excellent moment of form that crosses and has obtained with solvency the triumph. After leaving the water first, Costes has gradually increased its distance from Marcel Zamora, who arrived in Narbonne after his historic triumph in Embrunman. Finally, the Frenchman has achieved the triumph in a time of 03: 51: 57. Second, Marcel Zamora (4: 00: 23) and third Toni Peris (4: 09: 03)
The victory in women's category has been for Femke Reynaert with a time of 4: 51: 43. Next to her, Annette Werle (5: 02: 47) and Ada Carrasco (5: 06: 37).
Next stop: Menorca
After the dispute of this triathlon, ISOSTAR EXTREME MAN is already preparing for the last great challenge of the 2014 season in which, again, it has had the support of ISOSTAR, a leading brand in sports nutrition. It will be in Menorca on September 21, the date on which this medium distance circuit says goodbye.
More information about ISOSTAR EXTREME MAN: www.extreme-man.com