Doñana Challenge Triathlon It will also have "mini challenge"!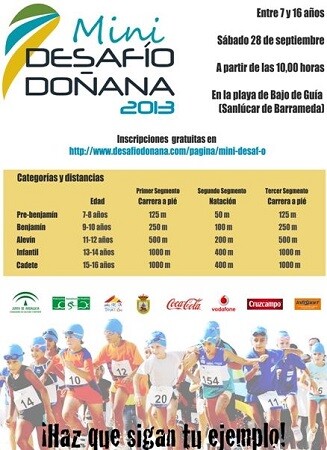 The youngest can also participate in the "Desafio Doñana" of the next September 28
Because the smallest are also important and the promotion of sport in the lower categories is fundamental for our sport, the organizers of Doñana Challenge have wanted to give the opportunity to participants from the category PreBenjamin until Cadet to be participants in "Doñana Challenge "
under the motto "Have them follow your example" the little ones (Prebenjamin 7 to 8 years) will have to complete a distance of 125 m of running on foot to then continue with 50 ma nado and finish again with 125 meters of running race. With intermediate categories, youngest, juvenile and children, the oldest in the cadet category (15-16 years) will complete the distance of 1.000 running meters to continue with 400 swimming meters and finish with 1.000 running meters again.
El Mini Challenge the 28 of September will be celebrated from the 10.00 hours in the Bajo de Guía beach (Sanlúcar de Barrameda-Cádiz). An ideal day of triathlon to share as a family.
If you want to share this Challenge, here you can find all the information about the event: http://www.desafiodonana.com/pagina/mini-desaf-o