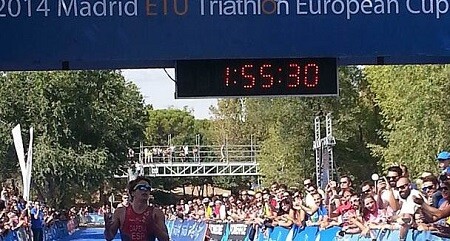 Pablo Dapena Top-10 at the European Cup in Madrid
The Spanish triathlete has excelled especially in the segments of swimming and cycling, to finally enter seventh position of the competition.
Dmitry Polyasnskiy he fulfilled the predictions getting the final victory with a time of 01: 53: 50, followed in second position by the French Frederic Belaubre (01: 53: 54) and in third position the Norwegian Kristian Blummenfelt.
The Russian led the race from the early stages of the competition, being the second fastest, with only the Frenchman Anton Pujades ahead two seconds short of distance, both being the first to complete the two laps of swimming by the lake of Casa de Campo, axis of the competition.
During the cycling sector the Russian was established in the head group that included a prominent Pablo Dapena. The leaders would be extending their advantage throughout this segment of 40 km cyclists who toured the vicinity of the Casa de Campo. An arduous and very technical circuit that had the mythical point as the emblematic point to the cable car. The Spanish would stay well placed in this squad.
After passing through the transition zone, Dapena started the 10 km section of running, among the first classified. Throughout the segment the Russian would once again show his great qualities, dominating at the head to finally cross the finish line in 1:53:50. In a tight final, the Frenchman Frederic Belaubre entered four seconds behind the Russian. While the Norwegian Kristian Blummenfeltse hung the bronze medal.
While Dapena - recent bronze medal in the National Eagle Championships- arrived in a creditable seventh place, after offering an outstanding performance. On the other hand, Antonio Benito 20º was classified, Lucas Mola entered 25º followed by 26ª position by Ramón Ejeda. As long as Ricardo Hernández I got the 31 position, Roberto Sánchez, 32º, Emilio Aguayo 34º and David Castro in 43º place.
Photo: FETRI