Cycling news
3 cyclists deceased this Saturday on Spanish roads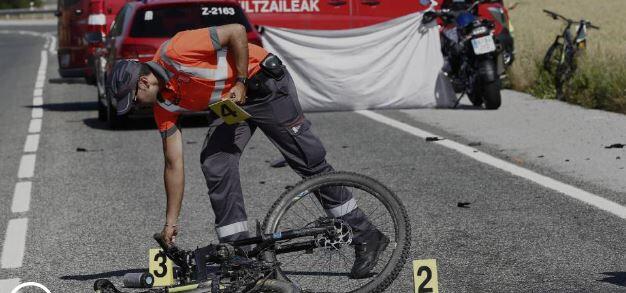 {wbamp-meta name = »image» url = »/ images / stories / news / cilclistas-muertos-navarra.JPG» width = »300 ″ height =» 150 ″}
We woke up with another bad news on Spanish roads, since several accidents happened again yesterday where three cyclists have died and two more have been injured.
Three cyclists have died and a fourth has been injured this Saturday morning in different accidents on the roads of Navarra.
Last minute, to these 3 deaths we must add another one in Oliva
The first cyclist has died in Erice de Iza; the second, in Lodosa and the third, in Urbasa. In addition, a fifth cyclist has been injured after being hit by a crane truck in Bétera (Valencia).
The deceased is a 55-year-old Zizur neighbor who was riding in parallel with another cyclist in the Vitoria direction. According to the first data provided by the Provincial Police, the man has invaded the road and has been run over by a vehicle that was driving in the same direction and whose driver has given negative tests for alcohol and drugs.
At 11.04 am, SOS Navarra was notified of the death of another cyclist, 56, on a rural road in the municipality of Lodosa, where the facts are still unclear.
The Provincial Police has reported the death of a third cyclist on NA-7183, in Urbasa. . In addition to these three cyclists who died in the Comunidad Foral, a fourth has been transferred to the Hospital Complex of Navarra after suffering a fall at 8.53 in NA-2040, in the district of Arce.
On the other hand, a cyclist has suffered a traumatic brain injury after being hit by a tow truck on a road in Bétera (Valencia) and remains admitted to a hospital in Valencia with a reserved prognosis. The accident occurred at 7.20 at kilometer six of the CV-310 highway, which runs from Godella to Bétera, when for reasons that have not been specified a cyclist has been run over by a crane, as explained by the thin government in the Valencian Community, Juan Carlos Moragues.
Another tragic weekend on our Spanish roads. From Triathlon News we work to try to raise awareness among cyclists and drivers trying to raise awareness of good behavior and regulations to avoid these tragic news. Then we leave you a series of links where various scenarios are shown and how to act before them
How to overtake a cyclist when there is a continuous line?
How to overtake a cyclist if another is approaching head-on
Comobity the APP of the DGT for the safety of drivers, cyclists and pedestrians
How to overtake a cyclist? We present 3 different situations
Do you know the regulations that the escort car of a group of cyclists has to follow?
First measures of the special plan of the DGT to increase the safety of cyclists
The new information panels of the Cyclists Safety Plan
Source and Photo: the country