I Cycle Route Central System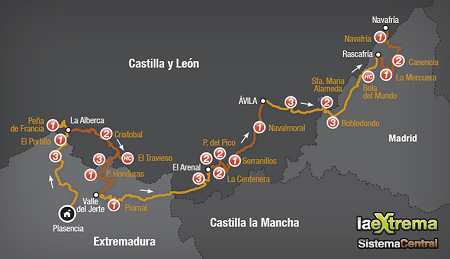 The 1st Central Circuit Cycle Tour, combines sport and nature with a format of personal challenge and adventure.
A new challenge has been born cyclist non-competitive and in stages, which will allow crossing the Central Sistem in 6 stages of authentic Cycling by the provinces of Cáceres, Salamanca, Ávila, Madrid and Segovia.
It consists of 6 stages, 710 Kms, 21 ports and more than 15000 meters of cumulative elevation that will take us from Plasencia (Cáceres) to Navafría (Segovia).
They will go back to regions like Las Batuecas, Sierra de Béjar, Jerte Valley, He will see her, Sierra de Ávila, Sierra de Madrid and we cross the mythical ports of the central massif: Peña de Francia, El Travieso, Pto de Honduras, Piornal, Pto El Pico, Serranillos, Navalmoral, Bola del Mundo, Morcuera, Navafría.


Further information: www.laextrema.es/sistema-central/