A driver of 67 years runs over eight cyclists in Lorca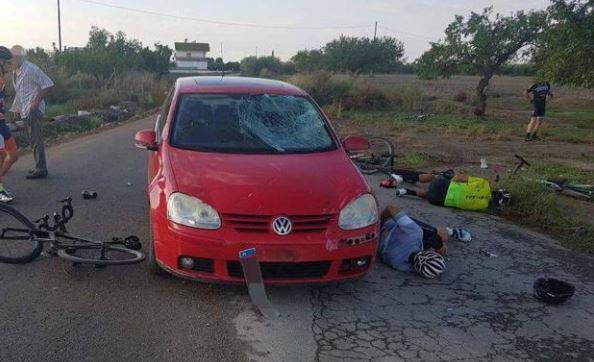 The accident occurred in the Camino de Vera and five of the athletes have been transferred to the Rafael Méndez Hospital
As reported by truth journal, for an 67 driver years, allegedly ran over a group of cyclists in the Camino de Vera, in the municipality of Lorca.
The eight cyclists were heading towards Venta Ceferino and tourism, a Volkswagen Golf, was traveling in the opposite direction towards Esparragal Station. For reasons that are being investigated by the Traffic Association of the Civil Guard, the vehicle collided frontally against the peloton.
In fact, one of the affected confirmed to 'The Truth' that «he has swept us» The driver got very nervous from the vehicle and immediately interested in the health status of cyclists.
Sources of the Ministry of Health confirmed that the accident resulted in five injured cyclists: three light and two with possible fractures of varying consideration, who were transferred to the Rafael Méndez de Lorca Hospital to submit them to various tests. "One of my colleagues was very serious, I think with broken clavicle, knee and hip."
Driver did not test positive for alcohol and the relatives who came to the area took him away. The Volkswagen Golf had the windshield broken and a crane was responsible for removing it from the aforementioned road that connects Lorca with Almendricos.
From Triathlon News we work to try to raise awareness among cyclists and drivers trying to inform about good behavior and the regulations to avoid these tragic news.
Then we leave a series of links where various scenarios are shown and how to act before them
How does a group of cyclists on the road have to circulate?
This way you DO NOT have to overtake a cyclist, we tell you how to do it Share!
Map of the black spots for cyclists in Spain
How to overtake a cyclist when there is a continuous line?
How to overtake a cyclist if another approaches from the front
Comobity the APP of the DGT for the safety of drivers, cyclists and pedestrians
How to overtake a cyclist? We present 3 different situations
Do you know the regulation that you have to follow the accompanying car of a group of cyclists?
First measures of the special plan of the DGT to increase the safety of cyclists
The new information panels of the Cyclists Safety Plan
Photo: National Police
Photo: Daily the truth