(Video) Nairo Quintana's statements after his accident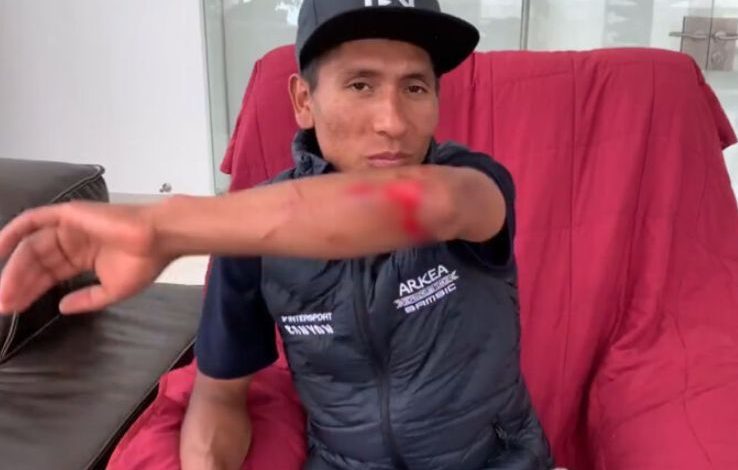 Yesterday the Colombian cyclist Nairo Quintana, suffered a accident while training, a driver improperly maneuvered and destabilized the Arkea-Samsic corridor, which ended up on the ground.
Although it was not serious, he was treated by his personal doctor.
Nairo, to reassure his followers, has published a video on his social networks explaining what happened.
«Thank you very much for the messages of encouragement, we know there was concern, it is true that this morning I was hit by a car. We had our accompanying vehicle in the back, and just ahead and coming from behind and had no way to see it. I was coming down the white line and he ran over me ».
"I have a small scratch and a blow to my right knee and another blow to my left thigh that was where I hit the rearview mirror of the vehicle that hit me."
"We are waiting for some tests that we send ourselves to do to rule out any injury that may affect our preparation that we have with the commitments that come. "
«Later I will comment. Thank you very much for your messages of support, for your prayers. I wanted to tell you that I am fine and that we will surely come out of this better. »
Hello friends, thank you all for your messages of encouragement and support. I am fine, we are doing all the relevant exams. pic.twitter.com/d5ayDmzd8F

- NairoQuinCo (@NairoQuinCo) July 3th, 2020