The Compex Team looks for 'titans' capable of dominating the desert in MTB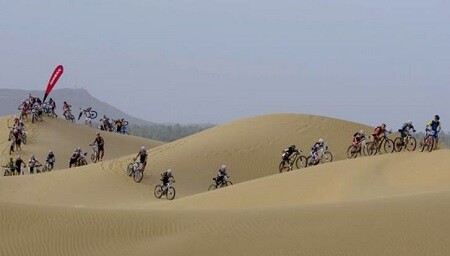 Six days of competition, 700 kilometers of route, the longest edition to date, temperatures that oscillate between the 15 and the 45 degrees and the challenge of crossing the finish line
The 9a Edition of the Titan Desert by Garmin already has dates: from the 27 of April to the 2 of May of 2014, but the competition has already begun in www.equipocompex.es.
Jordi Viladoms, that for a few days will change your rally bike for an MTB, look for partners to join the Compex Team who will participate in the next desert marathon in Morocco.
Viladoms, a classic in the Dakar from 2006 and runner-up in the world of Cross Country Rally, will be the leader of the Compex Team in the Titan Desert by Garmin 2014. Along with two other athletes will take over from María Pujol, Martín Giacchetta y Jaime Menéndez de Luarca, the components of the Compex Team in 2013.
Six days of competition, 700 kilometers of route, the longest edition to date, temperatures that oscillate between the 15 and the 45 degrees and the challenge of crossing the finish line. All this and much more is what awaits those that the Sport Committee chooses as companions of the pilot of Igualada.
But being part of the Team Compex of the Titan Desert by Garmin is not a matter of luck. It is a matter of motivation, perseverance, skill and sportsmanship. And, at the time of choosing, the team will take into account the sporting experience, the technical and mechanical knowledge, and the capacity of teamwork of each candidate.
If you already have Compex and you train with him, this is your chance to participate in one of the most desired MTB competitions by professionals and amateurs. (If you do not have a Compex, the Christmas campaign is perfect to acquire one).
You just have to sign up www.equipocompex.es before January's 7 and mentalizing yourself to dominate the Moroccan arena.