The Fernando Alonso Cycling Team will be a reality at 2015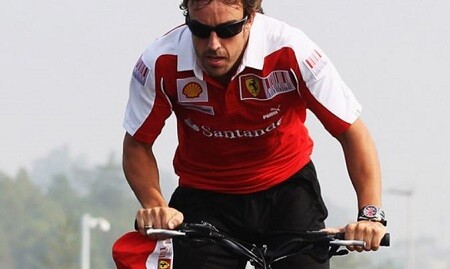 The Formula One driver will have a policy of zero tolerance with doping and commitment to a comprehensive medical center.
El Fernando Alonso Cycling Team (FACT) will be a reality at 2015 and already has the financial support, "a sponsor of Dubai, in the Arab Emirates, which would have committed to endorse the plan economically for five years. From 2015 to 2019, both included. "
The manager of the Asturian pilot began on Monday the procedures before the UCI to obtain the license that allows him to compete in 2015
Alonso has been personally involved in the construction of his cycling team, advised by the exiclistas Kiko García and Chechu Rubiera. "He has worked in the first person citing with runners, traveling in search of sponsors and arranging meetings with the main stages of cycling," he says. the ABC newspaper.
The creation of a cycling team was always one of the dreams of Fernando Alonso. In 2009 he wanted to enter Astana and at the beginning of September he announced a principle of agreement with the Euskaltel, but at the end of that month the negotiations broke and the own Asturian pilot assured in a statement his intention to constitute a team from scratch in 2015.
The Asturian pilot has an axiom above all: the principle of zero tolerance with doping. "He does not want to hire any advisor, director, doctor or cyclist who at some point in his life has been involved in a doping process. For this reason the presence of Rubiera in the project is not certain, "says the same information that also points out that Kiko García" is not sure that he is the first executive of Alonso's team ".
Photo:skysports.com
Via .biciciclismo.com