The heartbreaking message of denunciation of a cyclist hit in Madrid on World Bicycle Day
David was hit by a car during the cycling rally in a central Madrid street.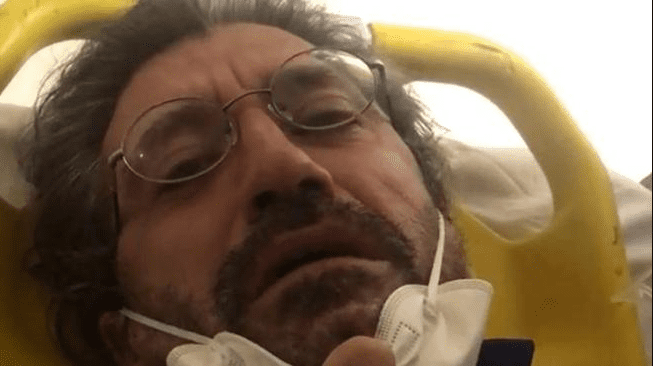 We echo this news published by 20 minutes, where they collect the testimony of David, an urban cyclist which was rolled up in the heart of Madrid, in a Cyclist concentration on the day of the bicycle.
World Bicycle Day ended with a serious scare for David, a cyclist used to going around the city of Madrid and who He wanted to claim the day with a march through the streets of the capital.
When he was going down Bravo Murillo street, a car hit him and he fled, leaving him lying there.
It was he himself who has shared the event on their social networks, in a totally heartbreaking way: filming a video from the same stretcher in which an ambulance picked him up to take him to Hospital La Paz.
This is his full testimony, which he shared in a thread on twitter:
Suddenly I feel an impact from the back and the following are turns and you are on the ground. A woman identifies herself as a doctor (traumatologist) and immobilizes me, a neighbor lowers blankets and informs me that the CAR HAS GIVEN TO THE https://t.co/G0ZLZocFN7 I took this photo 5 'before pic.twitter.com/Q8Yn3c7dMr

- ridemybikemadrid (@ridemybikemadrd) June 4, 2020
Samur immobilizes me and they take care with incredible tact (thanks to nurse Esther Santiago) the only name I remember. In they open a road, they look constantly and take me to La Paz pic.twitter.com/0olgoO0gMO

- ridemybikemadrid (@ridemybikemadrd) June 4, 2020
I ask, implore and demand SEGREGADAS Cycling Tracks in the city of Madrid. The lives of the Madrid cyclists are being played out by getting into a battlefield with cars, motorcycles and trucks, which any mistake can lead to the death of a person.

- ridemybikemadrid (@ridemybikemadrd) June 4, 2020
Similarly I DEMAND that @MADRID Comply with the law by requiring motorized vehicles (cars and motorcycles) not to exceed 30 km / h on cycle lanes and thirty streets. @CB_Castellana
There is no right to turn a deaf ear to breaching the speed limit

- ridemybikemadrid (@ridemybikemadrd) June 4, 2020
In Madrid, 1378 bicycle users have suffered an accident this year
Only so far this year, as of April 28 and according to the website for this purpose of the Madrid City Council, 138 bicycle users have been involved in traffic accidents