Cycling news
Freedom with charges for the drunk driver who ran over a cyclist in Guardamar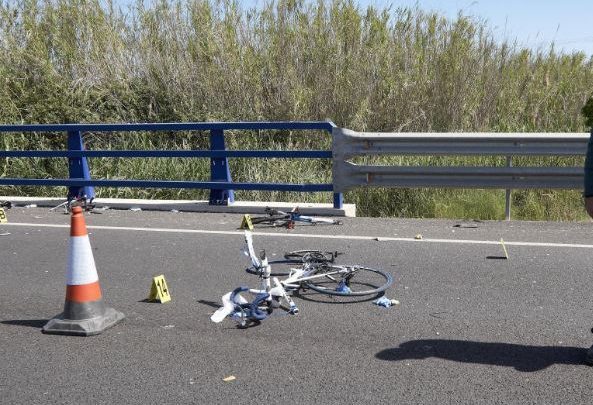 {wbamp-meta name = »image» url = »/ images / stories / news / atropello-cyclist-foto-carretaera.JPG» width = »300 ″ height =» 150 ″}
The woman fled and tested positive in the Breathalyzer test - The cyclist is still in very serious condition
The court of Instruction number 3 of Torrevieja has decreed the freedom with charges for the driver that yesterday ran over a cyclist and he fled in Guardamar del Segura, according to the newspaper levante-emv ebn his website
The woman has the obligation to appear in court every 15 days -the 3 and 15 days of each month-, and it has beenthe passport is
The judge imputes two crimes against road safety (one for driving under the influence of alcohol and another for driving without a license), a crime of omission of the duty of relief and a injury crime, according to sources of the Superior Court of Justice of the Valencian Community.
The one involved, who declared for almost two hours at the Palace of Justice, has stated that he does not "remember anything", According to his lawyer explained to this media, who has added that the investigation proceedings are still open.
The victim is still admitted to the ICU of the Orihuela Hospital with a health forecast and pending assessment because it presents a strong cranioencephalic trauma and physicians will assess the need to transfer it to another center of reference, as indicated to Health Press sources Europa.
Also, according to the Civil Guard, the accident occurred in CV920 in the 21.7 kilometer and not in Bigastro. For its part, the mayor of Guardamar, José Luis Sáez, has confirmed that it happened in the municipality of Guardamar. The woman, who was allegedly drunk, was still located under the influence of alcohol.
Apparently, according to the same sources, before the accident he had already carried out another accident of "low consideration", but he fled. After being located denied at first the facts and the place where the vehicle was. The breathalyzer test was positive, with a result of 0,34 in a first analysis and 0,33 in the second, and a negative result in drugs.
The vehicle with which it was committed was located over the 19.30 hours in a field of orange trees, in the town of Guardamar del Segura. The victim of the abuse, a Moroccan citizen of 30 years, is in the ICU of the Hospital of Orihuela in very serious condition
From Triathlon News we work to try raise awareness among cyclists and drivers trying to report good behaviors and regulations to avoid these tragic news.
Then we leave a series of links where various scenarios are shown and how to act before them
Source and Photo: levante-emv.com