Cycling news
Pedal next to Pedro Delgado and Oscar Freire in the XX International Bicycle Tour "Pedro Delgado"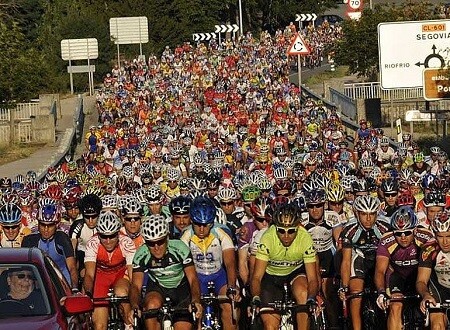 The next 18 in August will be held the twentieth international tourist cycle Perico Delgado "The parakeet"in Segovia This route has been celebrated since 1994 with tributes to different figures of this sport such as Angel Arroyo, Miguel Indurain, José Luis Pascua, José Miguel Echávarri and Ramón Chamorro Moliner among others.
This year Pedro Delgado pays special tribute to Oscar Freire, ex-cyclist Cántabro, three times world champion in the years 1999, 2001 and 2004, winner of four stages in the Tour de France and considered one of the best sprinters of the decade in stages and classics. These two great figures of the Spanish cycling, will share with the assistants this great route by different places of the Segovian nature.
The cycle route is considered one of the best nationally, Where cyclists will have to travel 168 kms going through the ports of Navacerrada, The Morcuera, Canencia y Navafria. 4 are ports of extreme hardness that require from the participants a preparation and a good physical condition, since it is a challenge based on a classic route of stages of great prestige in professional cycling, such as Back to Spain.
Only people over 18 years old can participate with a limited to 2.200 participants, The federal federation license of the RFEC or the one-day license will be mandatory.
Registrations can be formalized exclusively in the following link, and it has a cost of 34 € for federated and 59 € for non-federated, the registration deadline will be on Thursday 8 of August of the 2013
The organization emphasizes rExtend traffic regulations, attending the indications of the agents and organizers of the test since the traffic will remain open, and highlights the need to exercise caution in the descent of the ports.
After the march, the participants will be able to enjoy a meal of integration, and then proceed to the delivery of trophies.
Further information: http://www.pedrodelgado.com/perico/actualidad/marcha/2013/inscripciones-2013.html
TN Writing: Mónica García