Cycling news
#PorunaLeyJust approved in the Senate
The Congress approves the reform that hardens the penalties for imprudence at the wheel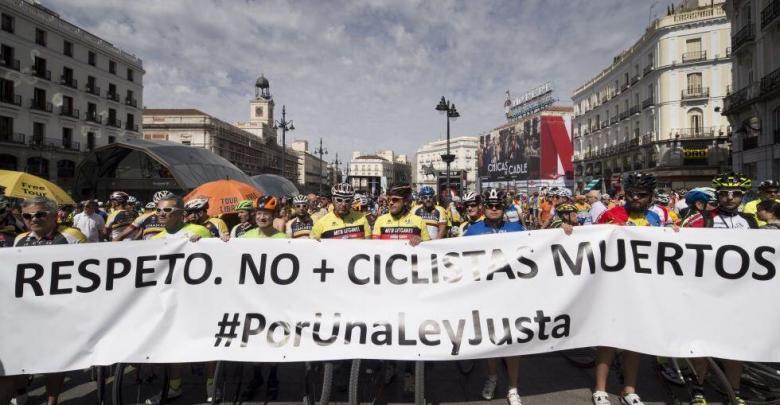 The normally Hardens penalties for reckless drivers at the wheel that causes accidents with dead or injured and introduces as a crime the abandonment of the accident site.
According to Europa Press, reform of the Penal Code anticipates that those drivers who cause accidents with dead or injured will face up to nine years in jail if they cause several deaths or until four years of prison if they leave the scene of the accident.
Anna González A promoter of this new law, she was left a widow in 2013 when her husband was hit by a truck while pedaling on his bicycle, and whose driver fled. Today, six years later, the Senate definitively approves the legal change that she promoted. "He who escapes is going to pay," he celebrates.
In the new law the new crime of "abandonment of the accident site" is created, with penalties from 2 to 4 years of prison in case the accident is the result of imprudence. In the event that the loss was fortuitous, from 3 to 6 months in jail.
If you commit crime against road safety causing deaths or injuries this behavior will automatically become considered serious imprudence. The penalties will be between 1 and 4 years in jail in case of death and up to 1 year in case of injuries.
Until now, serious imprudence resulting in death could only be applied to the maximum penalty of four years, regardless of the number of deaths. Now the judge "may" aggravate the sentence by one degree (up to 6 years of imprisonment) if there are at least two deaths or one deceased and one very serious injured (invalidating injuries).
The judge may aggravate the penalty in two grades (up to 9 years of imprisonment) if the deceased are "many". The rule does not specify how many would be "many". The judge must appreciate it case by case.
If a serious violation of the Traffic Law is committed (forbidden overtaking, skipping a traffic light or a stop, drive by manipulating the mobile, do not save the distance from 1,5 when a cyclist is passed, etc.) resulting in injury or death will be considered less serious imprudence.
The penalty is small, from 3 to 6 months of fine, but that is the least important. The important thing is that these accidents, the vast majority of which occur, are again considered a crime and, therefore, Victims can enjoy the protection afforded them by criminal law (ex officio lawyer, the performance of the prosecution and judicial expert reports).
These behaviors were considered to be lacking in the Penal Code before the reform carried out by the PP in the 2015. The legislative amendment eliminated the offenses deriving these cases from the civil legislation, where the victim is unprotected before the insurers.