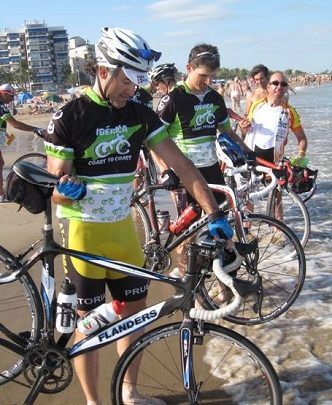 The I March Andalucia Coast to Coast 2013, is a cycle route for true bicycle lovers. It will begin in the province of Cádiz, in Vejer de la Frontera, on August 29 and will conclude in Almería, in the Natural Park of Cabo de Gata.
Seven days enjoying some of the most picturesque and representative corners of the Andalusian community by bicycle, where participants will tour more than 750 kilometers with cumulative total height of 12.500 mts Among the peaks that will rise, the Pico Veleta, La Ragua and Las Palomas stand out.
"The marches Coast to Coast They offer the particularity that we unite two seas, in fact, at the beginning and at the end we wet the wheels of our bikes in both seas "assures Javier Castellanos, organizer of the march," I assure you that you look at the map with different eyes after the crossing . It is a bit like the mountaineer looking at the peak that has already climbed. "
Another attraction offered by the march, is the possibility of seeing two of the stages of the Tour of Spain 2013, On September 1 the stage departure from Antequera and on September 2 the stage that goes up to Haza Llana.
This type of cycle routes offer the opportunity to cycling fans to face a personal challenge in combination with tourism, while athletes can make a great workout to face their future tests.
The registration period has been extended until August 22. More information can be found on their website www.ibericactc.com