A cycle touring route to cross Spain from North to South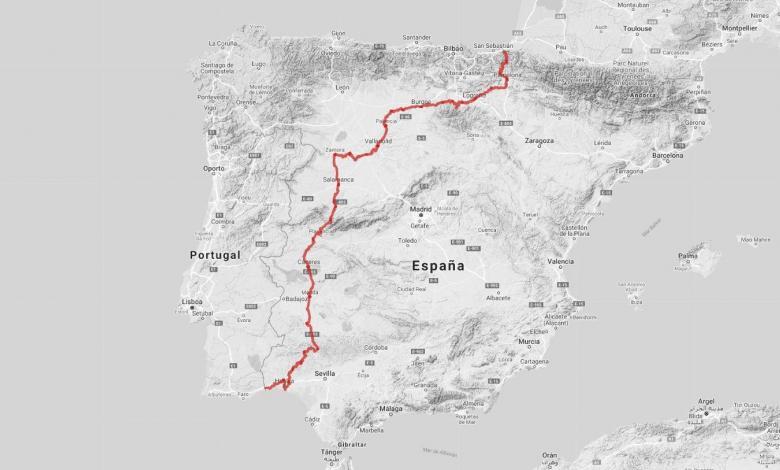 We have already spoken about the project on other occasions Eurovelo, a network designed for cyclists linking 46 countries with more than 70.000 kilometers bike lanes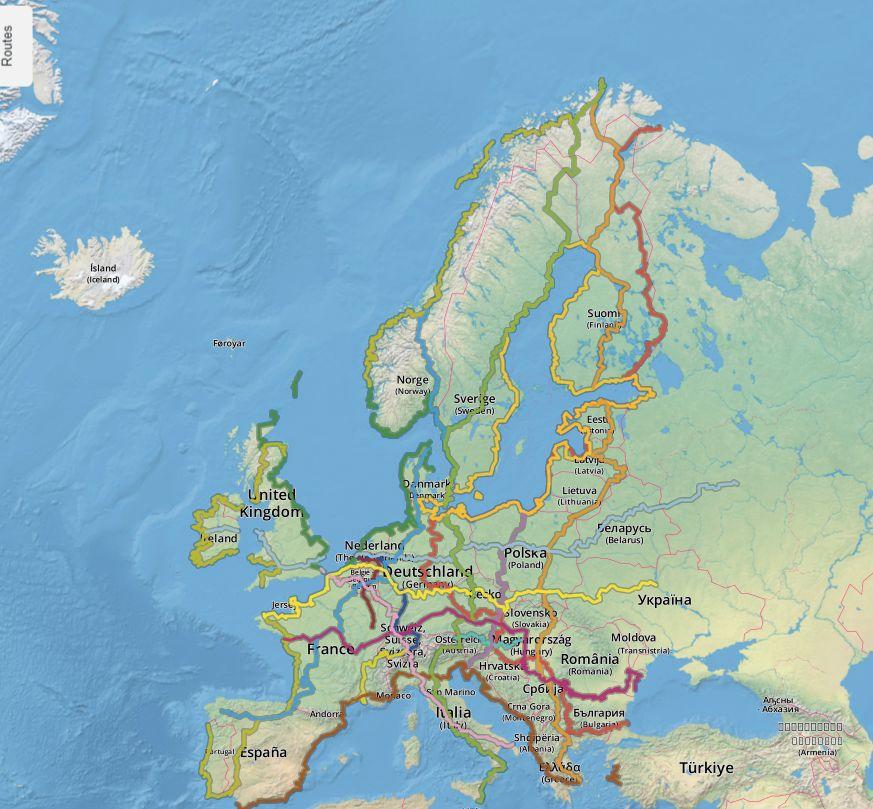 This project consists of 17 very well marked routes which also has a App with all the information about the routes. Not all are added yet but some can be downloaded
If you want to know more cycling routes in Spain, stop by our section of cycling books
In Spain there are 3 routes that we highlight now before detailing the one that runs through Spain from North to South.
Atlantic Coast Route
Pilgrims Route
Mediterranean Route
Away kilometers 7.500
Website https://en.eurovelo.com/ev8
Countries: Spain, France, Italy, Slovenia, Croatia, Bosnia, Montenegro, Albania, Greece, Turkey and Cyprus.
The Spain route from North to South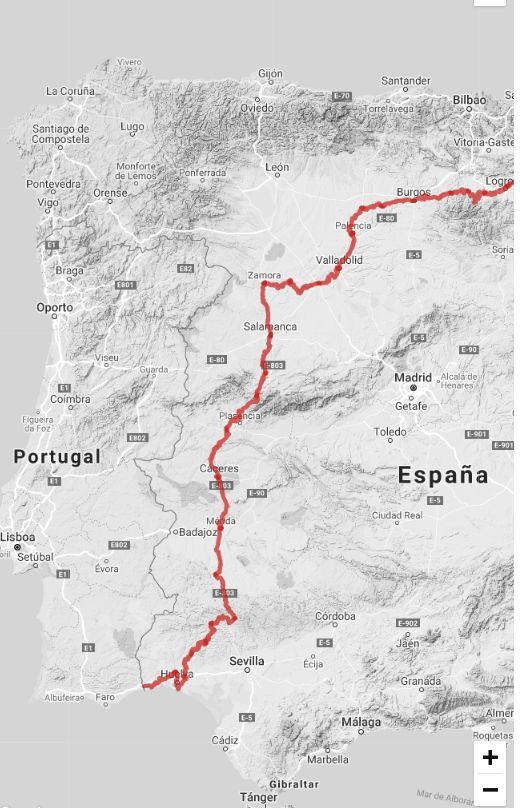 In this article we collect part of the route Eurovelo 1, which crosses Spain from north to south.
It starts in Irún (Basque Country) and ends in Ayamonte (Huelva)
Communities it crosses: Basque Country, Navarra, La Rioja, Castilla y León, Extremadura and Andalusia
NAVARRE
Section 1
Irún - Endarlatsa - Doneztebe / Santesteban - 28Km
Section 2
Doneztebe / Santesteban - Irurtzun - 53Km
Section 3
Irurtzun - Pamplona-Iruña - 20 Km
Section 4
Pamplona-Iruña - Estella-Lizarra - 54Km
Section 5
Estella-Lizarra - Logroño - 45Km
LA Rioja
Section 6
Section 7
Nájera - Santo Domingo de la Calzada - 44Km
Section 8
Santo Domingo de la Calzada - Belorado - 26Km
CASTILLA Y LEÓN
Section 9
Section 10
Burgos - Castrojeriz - 41Km
Section 11
Castrojeriz - Frómista - 27Km
Section 12
Frómista - Palencia - 43Km
Section 13
Palencia - Valladolid - 51Km
Section 14
Valladolid - Tordesillas - 41Km
Section 15
Tordesillas - Toro - 50Km
Section 16
Toro - Zamora - 41Km

Silver Route Route
Section 17
Zamora - Salamanca - 68Km

Silver Route Route
Section 18
Salamanca - Fuenterroble de Salvatierra - 55Km

Silver Route Route
Section 19
Fuenterroble de Salvatierra - Baños de Montemayor - 32Km

Silver Route Route
ESTREMADURA
Section 20
Montemayor Baths - Galisteo - 79Km

Silver Route Route
Section 21
Galisteo - Cáceres - 77Km

Silver Route Route
Section 22
Cáceres - Mérida - 70Km

Silver Route Route
Section 23
Merida - Zafra - 63Km

Silver Route Route
Section 24
Zafra - Monesterio - 65Km

Silver Route Route
ANDALUSIA
Section 25
El Real de la Jara - Puerto Moral - 44Km

Silver Route Route
Section 26
Puerto Moral - Nerva - 34Km
Section 27
Nerva - Valverde del Camino - 36Km
Section 28
Valverde del Camino - San Juan del Puerto - 34Km
Section 29
San Juan del Puerto - Gibraleón - 42Km