Cycling news
A fan of 49 years first in the Bearded Vulture 2019 and takes out 18 minutes to Indurain and to Contador
It is the fourth time that the castreño cicloturista is the fastest in the great depth test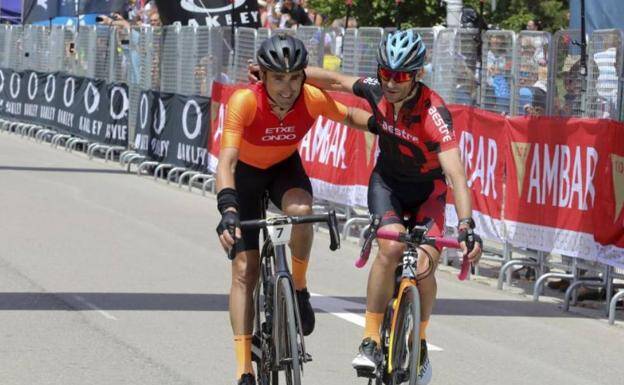 This year they have participated in the March Biker Laugher more than 11.000 cyclists and some former professionals such as Contador, Induráin, Zubeldia or Pereiro.
The fastest man to cross the finish line has been Ivan Santurde (05: 43: 40) followed by Haimar Zubeldia (05:43:45) and in the female category Clàudia Galicia (06: 21: 50), and the second, Amaia Urkidi (06: 27: 18) who was the first woman in 2017
Iván Santurde was the first to cross the finish line This past Saturday in Sabiñánigo in the twenty-ninth edition of the international cyclist Gran Fondo Quebrantahuesos, after completing the 198 kilometers of the race in a time of 5 hours, 43 minutes and 45 seconds.
With him has entered the former professional cyclist Haimar Zubeldia, with an average of 37,72 kilometers / hour after passing the ports of Somport, Marie Blanc, Portalet and Hoz de Jaca, on a sunny day and in which there have been no serious accidents.
Video finish
The cyclist has four victories, although it will be his last participation
With this first position of Santurde in La Quebrantahuesos ya accumulates four victories in this famous race (2001, 2003, 2004 and 2019) although he admitted after reaching the goal that it was going to be his last participation in the Lammergeier.
«I asked at home if they were going to let me participate in the last one preparing me well, and they said yes, it was the last one», She clarified between tears. In addition, Castro Urdiales is an expert in these background events and Orbea Monegros was awarded this year before 8.000 participants.
The times of some professionals
Haimar Zubeldia completed the test in a time of 5:43:45, Miguel Indurain en 6:01:45 (+18:05), Alberto counter 6: 03: 20 (+ 19: 40) and Oscar Pereiro en 6:56:37 (1:56:37)
Complete classifications 2019 Lammergeier
Fuente Heraldo and TN