(Video) The floods cause a fall in a cycling test for Juniors in Catalonia
The runners of a junior team suffered a multiple fall due to bad weather conditions.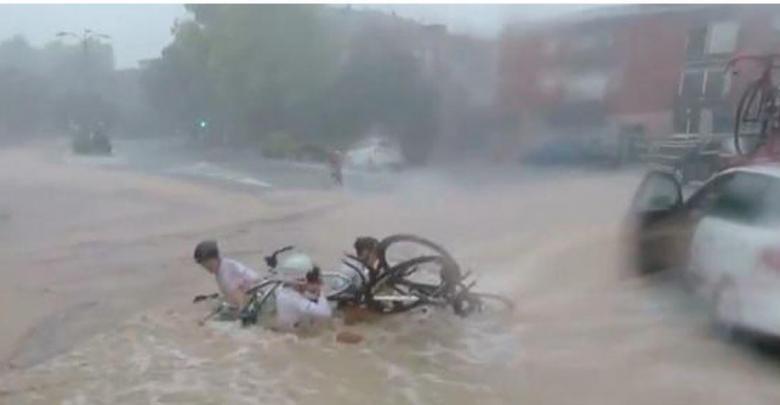 According to the newspaper 20 minutes, the team time trial of the Tour of Penedés, which is being held these days in Catalonia, was marked by the multiple fall of one of the participating groups due to a huge water raft. Cyclists found a gigantic puddle after taking a curve and they ended up going to the ground ... or, rather, to the water.
The images, captured from the motorcycle of the realization, show from the first moment the danger faced by the runners of this junior team due to adverse weather conditions, which flooded numerous places in Catalonia this Saturday.
Taking the curve under heavy rain and at high speed, the runners were surprised by the raft of water, which stopped their bicycles and ended up throwing them to the ground. Only one of the four runners managed to continue without falling.
These two videos have reached me from the first Tour of Penedes, junior category.
I find it unfortunate the situation in which these future professionals have run.
I think that both the principal arbitrator and the organization should have put pic.twitter.com/z0BB4mjD2O

- Nieves Moya (@NievesMoya) 28 de julio de 2019


The outrage took over the occupants of the team's support car, which stopped next to the riders to help them stand up. The occupants of the vehicle strongly recriminated the organization that "this cannot be".

These are not the only images of the test that have come to light, since the same journalist who published the video of the fall to show his outrage published shortly after another fragment of the test.

In the second video, cyclists are seen driving along a completely flooded road and it is clear that the test should be suspended so as not to jeopardize the integrity of the athletes.

agreement not to reach this without reason that can endanger more than one broker, you must know how to separate the security from the economic. pic.twitter.com/VbriYfBtHg

- Nieves Moya (@NievesMoya) 28 de julio de 2019