Ironman News
Albert Moreno fifth in the IRONMAN 70.3 Barcelona
2.800 athletes staged the 6º edition of a consolidated test and marked by good weather.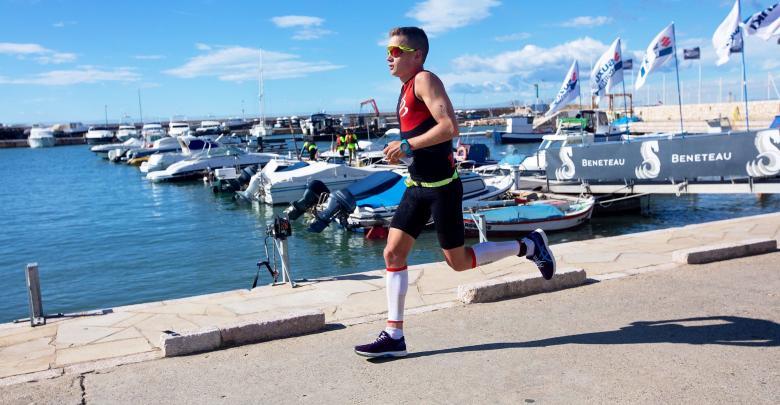 The town of Calella witnessed the sixth edition of the IRONMAN 70.3 Barcelonwith the participation of 2.800 athletes in what is already a classic of the calendar. Although the previous weather forecasts were not at all flattering, the test was finally able to develop with very little rain and a pleasant temperature.
The Belgian and the British athlete were proclaimed champions after a thrilling end of career.
With a calm sea, the first to complete the swimming sector was the Icelandic Sigurdur Om Ragnasson, followed by the British Elliot Smales and David McNamee. The latter, clear candidate for victory, led the first stage of cycling, but before reaching the equator of the second sector, gave the lead.
The new head of the race was the South African Nicolas Dougall, who would take advantage of his experience as a former professional cyclist to crown first the slopes of Montseny. Behind, McNamee and Bart Aernouts took positions.
The fight was served for the race on foot, where soon it would be seen that the victory would be between the British and the Belgian, both on the podium last year. A very equal duel that would end up opting for the last kilometers on the side of Aernouts, champion with 4h 05 '07. Second was McNamee with 4h 06 '36, while the also British George Goodwinue third with 4h 07 '37.
The beautiful battle for victory was also experienced, in a similar way, in the women's race. It is true that the British Fenella Langridge started and finished the first test, but in the middle they lived more than four hours of show.
Having disputed the water segment, Fenella was the first to get on the bike followed by the German Anja Ippach and the young Belgian Sara Van De Vel, who also presented candidacy for the podium. The cycling circuit, marked by the unevenness of Collsacreu and Montseny, favored Ippach to take over the leadership, a position that would keep the T2.
The half marathon progressed without notable news at the head of the race, but the physical problems of Ippach in the last kilometers caused a final change of positions. Langridge won with a 4h 37 '18 time, followed by Van De Vel with 4h 44 '15 and the Hungarian Gabriella Zelinka with 4h 45 '09.
As is the tradition in Calella, the whole territory has been turned over again with a consolidated test that continues to make the dreams of hundreds of athletes a reality. The local people and their circuits make IRONMAN 70.3 Barcelona a benchmark in the international calendar