Alistair Brownlee, gets his second victory in IRONMAN down the 8 hours and the Slot for Kona 2020
The British triathlete has won the IRONMAN WESTERN Australia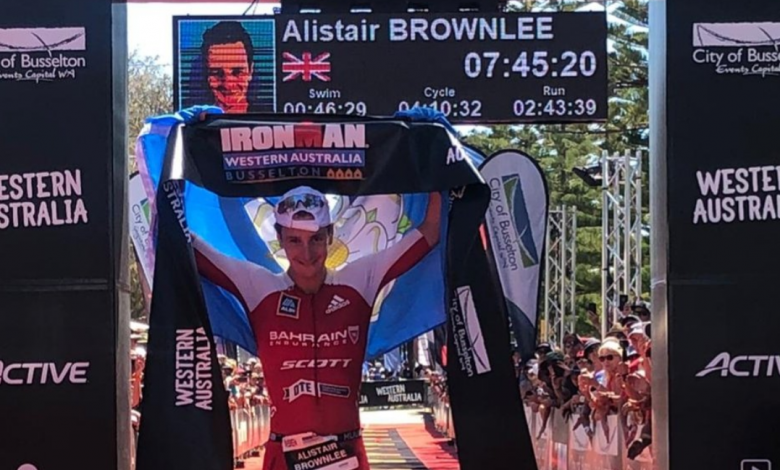 This morning a new edition of the IRONMAN WESTERN Australia where the British triathlete Alistair Brownlee He returned to the competition after his participation in Kona.
We remember that Brownlee got the victory in his debut in IRONMAN in the test of Ireland and then it was 21st at Kona.
Today he has returned to the competition and has done it in style with the victory in the test with a 7 time: 45: 21 and getting the Slot for Kona 2020
The test began with the 3,8 km of swimming where the first to leave the water was Alistair Brownlee along with Clayton Fetell and Sam Appleton. Simon Cochrane came fourth at 2:10 off the lead trio.
This third remained in the lead until kilometer 50 of the segment where Fettel was off the hook leaving Bronwlee and Appleton ahead.
The British and the Australian continued together and increasing their advantage to reach T2 with 7: 19 over Matt Burton and Antony Costes.
In the foot race Alistair had no rival and from the first moment it was opening differences with respect to Aplleton so in the kilometer 10 of the segment to have a comfortable advantage of 3: 29.
Alistair Brownlee did not loose at any time and continued to increase his advantage to reach the goal alone in a time of 7: 45: 21. The second classified was Matt Burton (7: 55: 40) and the third Tim Van Berkel (8: 00: 27).
The times of Alistair Brownlee
His times in today's race have been:
Swimming 3,8 km: 46: 30 (1 average: 13 min / 100m)
T1 2:31
Biking 180 km: 4:10:33 (average of 43,11 km / h)
T2: 2: 10
Race on foot 42 km: 2:43:40 (average 3:53: min / km)
Gurutze Frades third
In the women's test the victory was for Teresa Adam with a time of 3: 09: 30 followed by Sara Piampiano (8: 42: 58.) Gurutze Frades has been third with a time of 8:49:41 getting the best mark of a Spanish triathlete In the distance
Now that you have the Slot for Kona, Tokyo 2020 target?
With the Slot in the pocket for the IRONMAN World Championship 2020, we will have to wait and see what the British triathlete decides.
At the beginning of the year, he let me intuit that he would try to be in Tokyo since he returned to compete in short distances, getting the victory in all those who participated
He did it in Sprint, Olympic, Medium Distance and Long Distance getting the European title and the Slot for Kona in his distance debut.
We will have to wait for you to confirm it. What is clear is that he will bet on Kona in 2020