Alistair Brownlee wins the Ironman 70.3 Dubai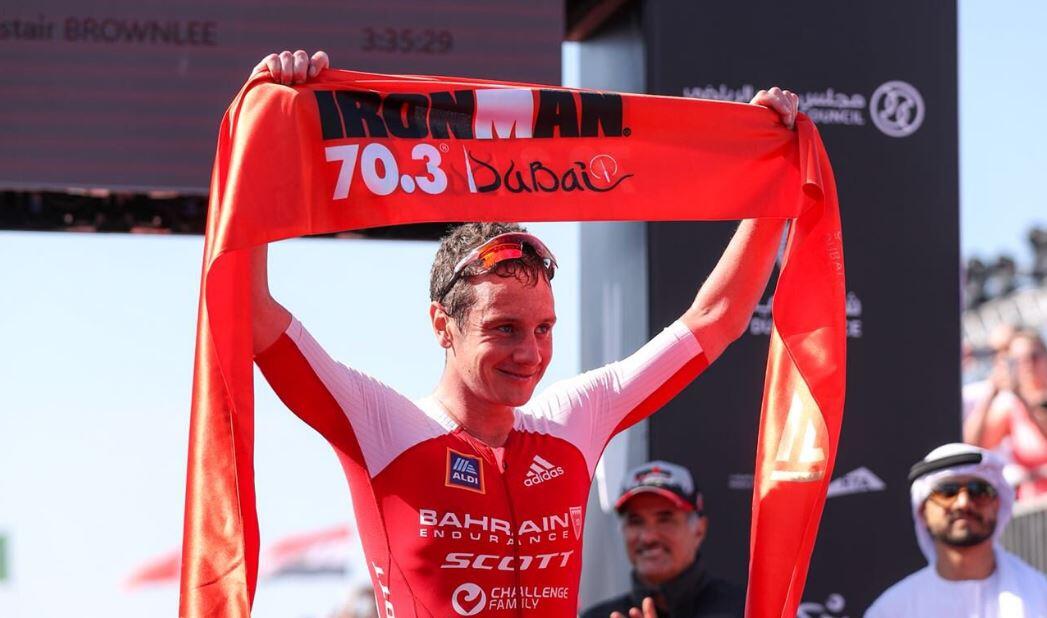 {wbamp-meta name="image" url="images/stories/noticias_08/alistair-brownlee-ironman703dubai.JPG" width="300″ height="150″}
The briánico has returned to the competition in style after the operation he had to undergo last year
Today the first test of the race was held in the capital of the Arab emirates Triple Crown, the Ironman 70.3 Dubai , where the British Alistair Brownlee, has achieved the victory, returning to the competition in style.
The test began at 4 in the morning Spanish time with the 1,9 km of swimming where the German Johan Ackerman came out together followed by Alistair Brownlee and Eric Watson.Eneko Llanos came out on 11 at 59 seconds and Emilio Aguayo 15 to 1: 41
Already in the 90 km of cycling Alistair came out giving everything, and passing as race leader in the 22 km of cycling with a 1:19 advantage over Sven Riederer. The Briton increased his lead to reach T2 with a 4:12 lead over Riederer and a 4:15 lead over Jesper Svensson. Eneko Llanos arrived at T2 in 14 position at 8:06 from the head of the race
During the 21 km of foot race Alistair Brownlee He managed to manage his advantage, getting the victory in a time of 3: 35: 30 followed by the Swiss Sven Riederer (3: 42: 05) and Ruedi Wild (3: 42: 42) occupying the third final position.
As for the Spanish, finally Emilio Aguayo I finish in the twentieth position with a time of 4: 02: 35. As to Eneko Llanos left in the race on foot. Due to a low back pain that he suffered from yesterday
"Sweet and sour taste after today's withdrawal in Dubai.
I have felt centered, strong, fighter on the bike, I have enjoyed as I had not done for a long time but it has been to set foot on the ground to start the race on foot and stay stuck. Yesterday afternoon I was already touched with a slight lumbalgia, I do not recommend 1.9kms swimming and 90 hard and intense bike kms as treatment.
I am still excited, it has only been a small stumble from which I will recover soon."
Remember that last year the victory went to Javier Gómez Noya , with a spectacular comeback getting a time of 3: 42: 21
Male classification
1- 3:35:32 Alistair Brownlee
2- 3:42:06 6:35 Sven Riederer
3- 3:42:44 7:12 Ruedi Wild
4- 3:43:41 8:10 Maurice Clavel
5- 3:44:22 8:51 Nicholas Kastelein
6- 3:45:36 10:05 Ilia Prasolov
7- 3:45:43 10:12 Jesper Svensson
8- 3:47:09 11:38 Ronnie Schildknecht
9- 3:47:12 11:40 Bertrand Billard
10- 3:47:54 12:23 Kevin Maurel
20- Emilio Aguayo
Female Test
As for the female event, the winner was the German Anna Haug with a time of 4: 00: 25 followed by the British Sarah Lewis (4:05:19) and Holly Lawrence (4: 07: 36) occupying the third final position. In this category there was no Spanish participant
Photo @ironmanlive