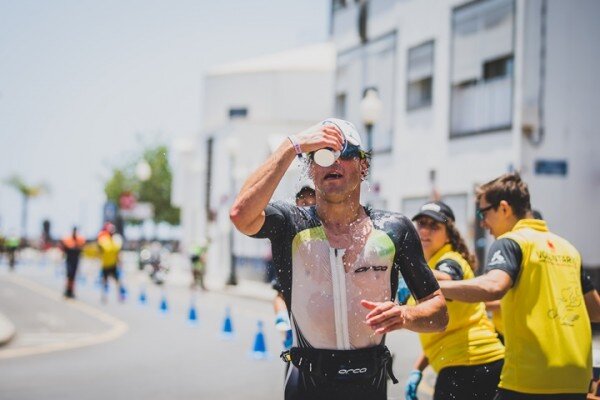 {wbamp-meta name=»image» url=»/images/com_osgallery/gal-6/thumbnail/ironmanlanzarote-sa-63352017C16F77DC-03EA-C66B-5C0C-699EC312679E.jpg» width=»300″ height=»150″}
We have compiled some curious and interesting data that have occurred in the XXVI edition of La Santa Ironman Lanzarote
- The Belgian Bart Aernouts He took the victory with a time of 8:34:13 staying less than 4 ′ from breaking the German record Timo Brach 2011 which is 8:30:34. For now no one has ever dropped below 8h30min in this legendary race
- The winner Lucy Charles pulverized the record of the cycling sector leaving time in 5: 23: 29
- Saleta Castro he made his best time in Lanzarote at 10:11:45 despite suffering a mechanical failure that made him waste time. The Galician became the youngest PRO triathlete to be a finisher 5 times, with less than 30 years old and also has always finished in top7 positions.
- After spending some time without competing due to injuries, Peru Alfaro he returned in a big way getting a very great 4th position
- Patricia Bueno debuted in the PRO category achieving a creditable 10th place.
- The Spanish of the category 35-39 they had a huge performance with 8 top10.
- In total there were more than 21.000 people from 117 countries who followed the competition on the official website.
- 1.358 finishers had the Ironman of Lanzarote
- Santiago Moralejo, triathlete winner of the Triathlon News registration thanks to the competition of Skechers He had a brilliant performance being 2nd in his age group, 18-24 years.
- There was representing 50 countries, being Spain the one that more triathletes contributed with 536
- The Mexican triathlete Diego Polino ran the Ironman marathon "reverse" being the first triathlete to perform this sector "from behind" in an Ironman.
- Fatima Sanchez, one of the pioneers who has been in triathlon for more than 20 years and who was 5th elite in the Posadas Spanish Championships in 1996, competed in her first Ironman in Lanzarote finishing the test.
- And to end as always, mention the "6 people 6" who have the participation records in the Ironman Lanzarote. In male category Albert Corveleinj achieved his 22nd finisher in Lanzarote, Carmleo Ruiz 21º and Amedeo Bonfanti she did it for 20º joining the "club de los 20". In women, Ingrid Arning finished his 9th IM of Lanzarote. Inés Hernandez seven times finisher had to retire and Susana Román He "tied" him, managing to finish for the seventh time.
{os-gal-6}
Photos: Diego Santamaria / Club La Santa
News sponsored by